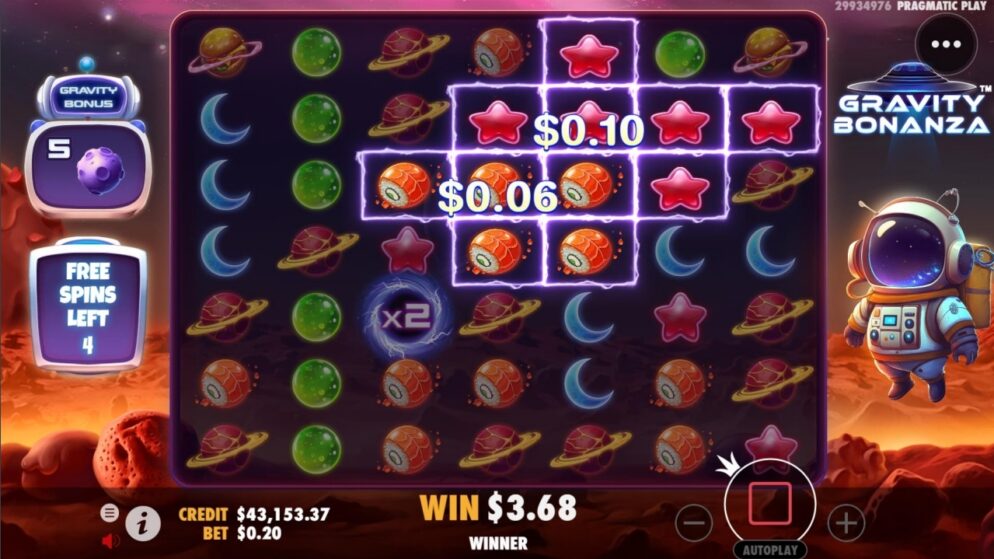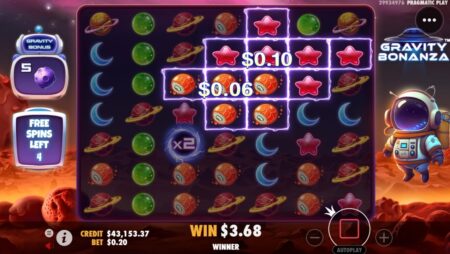 Pros
Unique 7x7 grid format differentiates it from typical slot games.
High volatility promises significant rewards.
Various bonus features including Black Hole and free spins.
Cons
Very high volatility might not be suitable for all players.
Thematic focus on space exploration might not appeal to everyone.

Gravity Bonanza™ Embark on a Cosmic Adventure
An Overview
Gravity Bonanza™ is a high-octane escapade through the cosmos, featuring a unique 7×7 grid filled with astronomical symbols like asteroids, stars, and moons. With distinct gameplay mechanics such as cascading symbols and a black hole feature, it promises an unusual and engaging slot experience that sets it apart from traditional games in this genre.
Metadata
Release Date: 3rd October 2023
Minimum Bet Per Line: 0.1
Minimum Total Bet: 0.2
Maximum Total Bet: 240
Rows: 7
Reels: 7
Lines: 20
Bet Multiplier: 20
Max Multiplier Win: 10000
RTP: 96.09%
Volatility: Very High
Extra Features: Replay, Buy Spins, Free Bonus
Hit Frequencies: Varies
Gameplay Mechanics
Cascading Symbols and Cluster Wins
The first thing that grabs your attention is the game's departure from standard reel spins. Symbols cascade down from the top, forming clusters when they land. These clusters, if five or more identical symbols are grouped together, result in wins and are subsequently replaced by a new cascade, potentially forming a chain reaction of wins.
Black Hole Feature
The Black Hole symbol is a game-changer. When it appears, a random symbol is selected, and all its instances are collected from the screen, resulting in a bonus payout. This not only adds a layer of strategy but also increases anticipation during gameplay.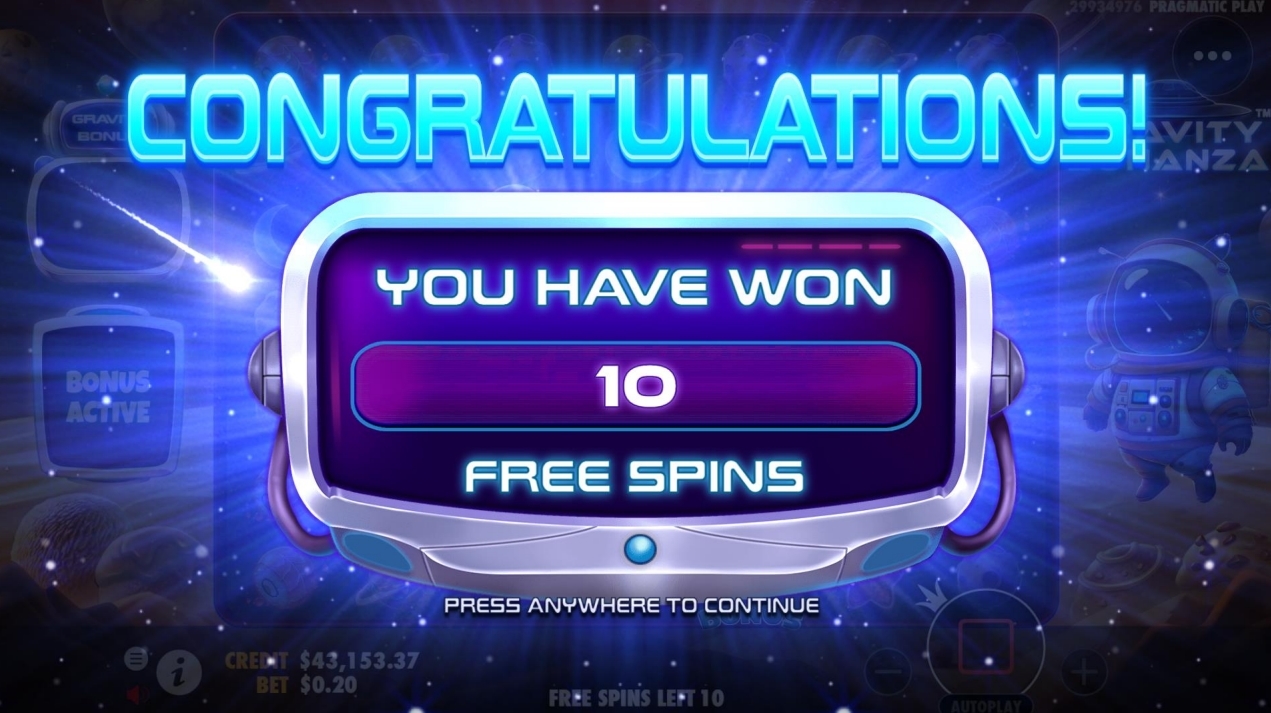 Free Spins and Multipliers
Players can access the bonus round by landing at least three Scatters. During free spins, the Black Hole symbol could come with a multiplier, making the bonus round especially lucrative.
Gravity Bonanza™ raises the bar for what slot games can offer. It isn't just about the visuals, which are top-notch with a vivid display of outer space and celestial objects. The game has successfully redefined the gameplay mechanics by introducing a 7×7 grid and cascading symbols. Traditional reels are replaced by falling celestial bodies that create a dynamic and continuously changing game landscape.
The Black Hole feature is one of the standout gameplay elements. The appearance of a Black Hole symbol is a game-defining moment; it injects a sense of anticipation and strategic depth, creating another layer of excitement beyond the cluster wins.
While most slot games offer free spins, Gravity Bonanza™ takes it a step further by including multipliers. You don't just win; you win big, especially with multipliers that can go up to 10x in the bonus round. This is particularly engaging for those who are chasing the thrill of huge payouts.
The game's very high volatility does come with its share of risks and rewards. It may not be the best choice for those who prefer more frequent but smaller wins. However, for players who enjoy a higher level of risk, this game offers an adrenaline-filled experience that perfectly complements its cosmic theme.
Finally, there are the game's added features like Replay, Buy Spins, and Free Bonus. These additional options not only add depth but also keep players engaged for longer periods. Gravity Bonanza™ makes each spin an event, and the potential for significant rewards is always lurking around the corner, or in this case, the next cascade.
Conclusion
Gravity Bonanza™ is a remarkable game that offers more than just a typical slot experience. It delivers an intricate blend of strategy, risk, and reward, all set against an interstellar backdrop. It manages to keep players on their toes with its unique gameplay features, from cascading symbols and cluster wins to the exciting Black Hole symbol. Despite its high volatility, which may not be suitable for all types of players, the game's rich features and promising payouts make it a worthy expedition for those willing to venture into this cosmic landscape.