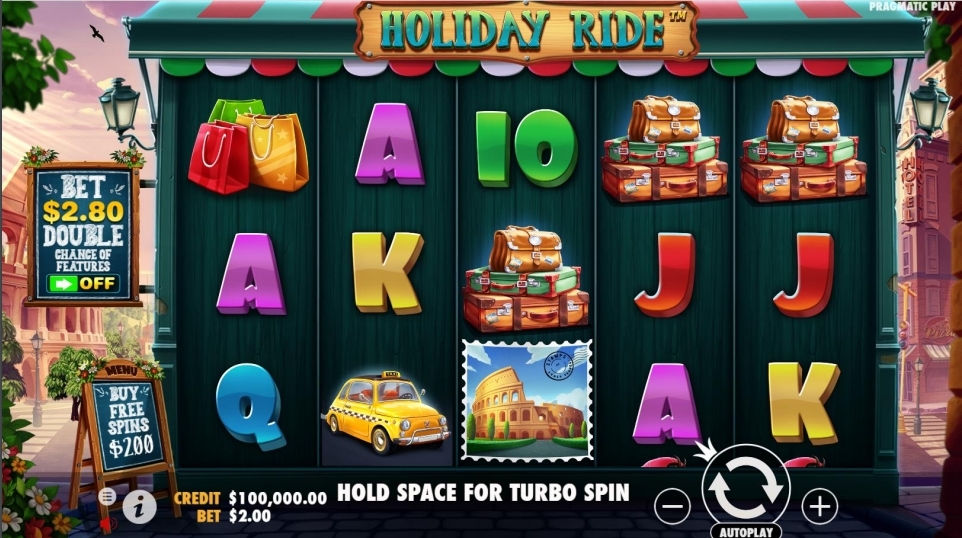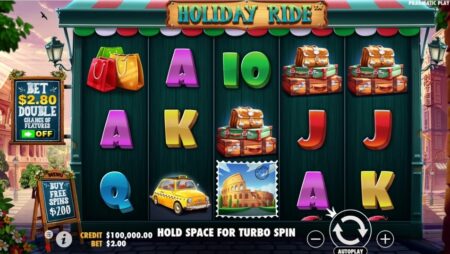 Pros
High RTP (96.56%) boosts the likelihood of wins.
Rich thematic elements add to the gameplay experience.
Sticky multipliers in the bonus round raise the stakes and excitement.
Cons
High volatility may not suit all types of players.
No retriggering of free spins in the bonus round.

Introduction to Holiday Ride™
Launching on May 16, 2023, Holiday Ride™ offers an Italian holiday-themed experience packed with engaging features. With its 5 reels and 25 pay lines, it's a slot game designed to deliver memorable gaming moments.
SPECIFICATIONS
Release Date:
16th May 2023
Game Type:
Video Slot
The Theme and Symbols of Holiday Ride™
The game boasts a vivid, holiday-inspired theme with Roman elements. It features luggage, taxis, an adventurous backpacker, and even Colosseum collector stamps as its primary symbols.
Gameplay and Special Features of Holiday Ride™
Holiday Ride™ comes with multiplier wilds in the form of mopeds, substituting all other symbols on the reels to potentially boost winnings. Players are also awarded a bonus game upon landing three scatter symbols, where a basket of fireworks will explode to determine the number of free spins you start with.
Free Spins and Bonus Features
Once you activate the bonus game, multipliers become sticky, further increasing the chances for higher payouts. Unfortunately, retriggering free spins isn't an option as scatters don't appear during the free spins round.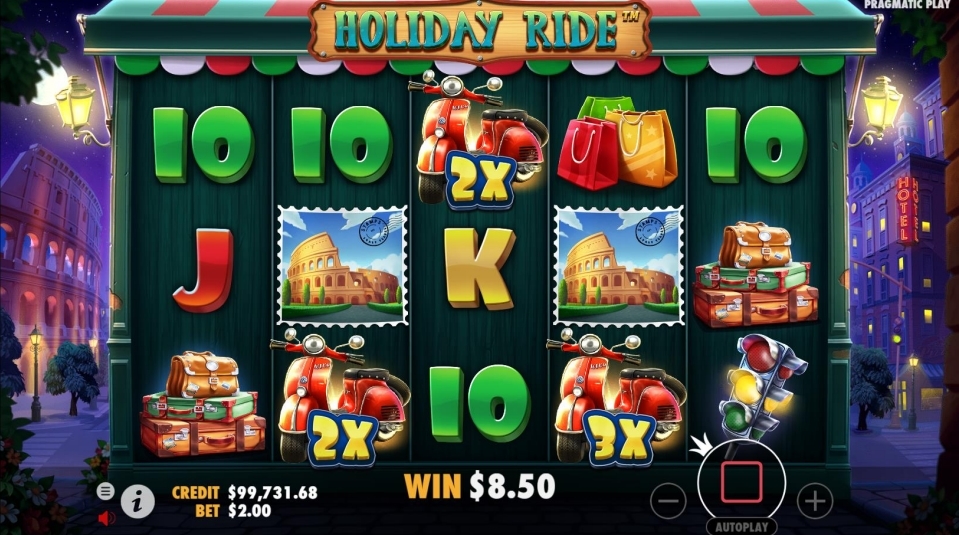 What Other Websites Say About Holiday Ride™
The game has been praised for its enticing mix of high volatility and robust features. The sticky multipliers during the free spins round have been particularly highlighted as they add an extra layer of excitement.
Useful Information About Holiday Ride™
The game offers a relatively high RTP of 96.56%, combined with high volatility. It has a wide range of betting options, from a minimum bet of 0.25 to a maximum total bet of 175 (with Ante). Other features include Replay, Buy Spins, and a Free Bonus.
My Thoughts About Holiday Ride™
Holiday Ride™ stands out for offering a well-themed experience with a focus on Roman holidays. The high RTP and volatility make the game appealing for players looking for high-risk, high-reward gameplay. Although it has a very specific theme, the game mechanics and features are universally exciting.
Holiday Ride™ successfully captures the essence of a Roman vacation in a 5-reel, 25-line slot game. Launched in May 2023, it has already created quite a stir in the online gaming community. The game offers a high RTP of 96.56% and falls under the category of high-volatility games. This means players can anticipate substantial wins, but they should also be prepared for higher stakes.
The game's visuals are noteworthy, packed with rich symbols like the Colosseum, yellow taxis, and backpackers. Adding to the fun are the moped multiplier wilds, which substitute for all other symbols, adding an element of unpredictability and excitement to each spin.
One of the exciting features is the bonus game, triggered by three scatter symbols. When activated, a basket of fireworks explodes to determine the number of free spins players receive. This makes for a dynamic and ever-changing gaming experience, as you never know just how many spins you might get.
However, it's worth noting that free spins can't be retriggered during the bonus round. While this is a bit of a letdown, the game compensates with its sticky multipliers, enhancing the potential for substantial wins during the free spins.
In summary, Holiday Ride™ is a captivating game for those who enjoy both thematic richness and mechanical intricacy. It promises not just visual delight but also a variety of ways to win. The high volatility ensures a thrilling ride, making every spin a gamble that could result in major rewards—or equally significant losses. It offers the same highs and lows you'd expect from an adventurous Roman holiday, right from the comfort of your screen.