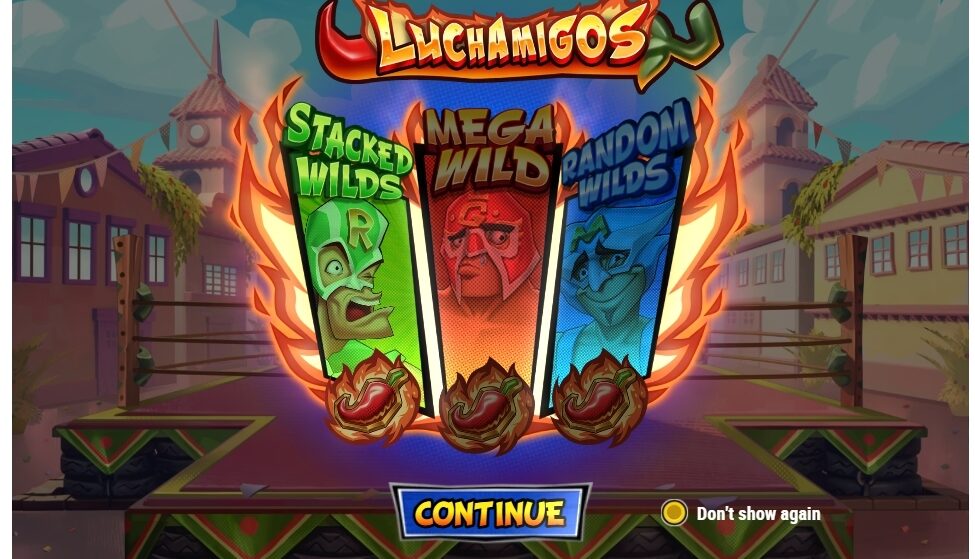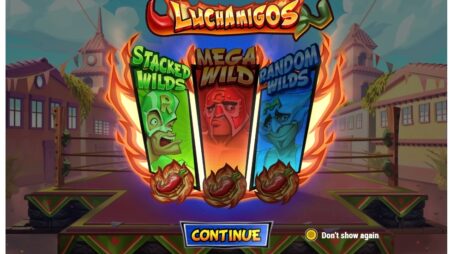 Pros
Unique and vibrant theme.
Exciting Free Spins bonus round with "super wild".
Balanced RTP and volatility.
Wide betting range.
Mobile compatibility.
Cons
High variance might lead to longer periods between wins.
The theme might be too niche for some players.
Introduction to Luchamigos
Embrace the exhilarating world of Mexican wrestling with Luchamigos, a thrilling online slot game developed by Play'n GO. Released in May 2023, this game features dynamic characters and an electrifying atmosphere, capturing the spirit of the iconic Lucha Libre wrestling.
The Theme and Symbols of Luchamigos
Luchamigos takes players into the vibrant realm of Lucha Libre. The backdrop features a wrestling ring with an enthusiastic audience, while the high-value symbols include different luchador characters in a variety of poses. The low-value symbols are stylized card suits that blend well with the game's energetic theme. Fans of Lucha Libre can enjoy the excitement of this sport on various platforms, including free slots.

Gameplay and Special Features of Luchamigos
Luchamigos unfolds on a 5×3 reel grid with 243 ways to win. The game's special features revolve around its luchador characters. Each character functions as a wild symbol, substituting for all other symbols to form winning combinations. Additionally, each luchador has a unique "Super Power" that can trigger bonus features during gameplay.
Free Spins and Bonus Features
Three or more Lucha Belt scatter symbols landing on the reels trigger the Free Spins feature. Players are awarded 10 free spins, during which the luchador wild symbols increase in frequency.
During the Free Spins round, if a luchador symbol lands, its Super Power feature is triggered. This could result in multipliers, additional wild symbols, or transformation of low-value symbols into higher-value ones, enhancing the winning potential significantly.
What Other Websites Say About Luchamigos
Since its release, Luchamigos has received positive reviews from various online gaming platforms. Critics and players alike have commended the game's lively theme, engaging special features, and rewarding Free Spins round. The unique concept of luchador Super Powers has also been praised for adding a fresh spin to the game mechanics.
Useful Information About Luchamigos
Luchamigos offers a flexible betting range, starting from 0.20 and going up to 100 coins per spin, catering to all types of players. The game boasts a Return to Player (RTP) rate of 96.20%, placing it in the medium volatility category. This balance suggests a mix of smaller, frequent wins and larger, less frequent payouts.
The game's detailed paytable, Autoplay feature, and full mobile compatibility make it accessible and easy to play. For those who want to test the game before committing to real money wagers, a free-play version is also available.
My Thoughts About Luchamigos
From my perspective, Luchamigos is an exciting and enjoyable slot game. Its Lucha Libre theme is well-executed, with vibrant graphics and sound effects that capture the spirit of Mexican wrestling. The unique Super Power features of the luchador characters add an interesting layer to the gameplay, providing unexpected twists and increased winning opportunities.
However, some players might find the game lacking in terms of bonus feature diversity. Nonetheless, its well-rounded aspects – appealing theme, engaging gameplay, and balanced volatility – make Luchamigos a slot game worth trying. Please feel free to share your opinions about the game in the comments section below.
Online Slots RNG Auditors
Luchamigos, like all reputable online slots, is audited by trusted institutions to ensure fairness and trustworthiness. These include:
Department of Internal Affairs NZ
Office of the Auditor General of Ontario
Kahnawake Gaming Commission
UK Gambling Commission
Luchamigos: An Action-Packed Wrestling Adventure
Step into the ring and join the thrilling world of Lucha Libre with Luchamigos, an action-packed online slot game by Play'n GO. Released in May 2023, this game immerses players in the electrifying atmosphere of Mexican wrestling, where masked luchadores showcase their skills and compete for glory and rewards.
Graphics and Visuals
Luchamigos features stunning graphics and vibrant visuals that capture the energy and excitement of a Lucha Libre wrestling event. The wrestling ring backdrop, the colorful costumes of the luchadores, and the cheering crowd create an immersive atmosphere that transports players into the heart of the action. The animations are fluid and dynamic, adding to the overall excitement of the game.
Winning Combinations and Paylines
In Luchamigos, players aim to create winning combinations by matching symbols across the reels. The game features a variety of luchador-themed symbols, including different wrestlers, wrestling masks, championship belts, and traditional card symbols with a Mexican twist. The paylines are fixed, offering players multiple ways to win with each spin.
Special Features and Bonus Rounds
Luchamigos offers several special features and bonus rounds to enhance the gameplay and increase the potential for big wins. The luchador wrestlers act as wild symbols, substituting for other symbols to create winning combinations. The Free Spins feature is triggered by landing three or more scatter symbols, unlocking a set number of free spins with additional bonuses.
During the Free Spins round, the luchador wrestlers' superpowers come into play, offering unique bonuses such as multipliers, stacked wilds, or symbol transformations. These features add excitement and unpredictability to the gameplay, keeping players engaged and entertained.
Volatility and RTP
Luchamigos has a medium volatility level, striking a balance between frequent smaller wins and the potential for larger payouts. The game has a theoretical Return to Player (RTP) of 96.20%, indicating the average expected return to players over the long term. This percentage reflects the game's fairness and indicates that players have a good chance of receiving a portion of their wagers back as winnings.
Luchamigos delivers a thrilling and immersive wrestling experience, combining the excitement of Lucha Libre with the thrill of online slot gaming. The vibrant graphics, engaging gameplay, and exciting bonus features make this game a standout choice for fans of both wrestling and online slots. Whether you're a seasoned player or new to the world of online slots, Luchamigos is sure to provide hours of entertainment and the potential for big wins.