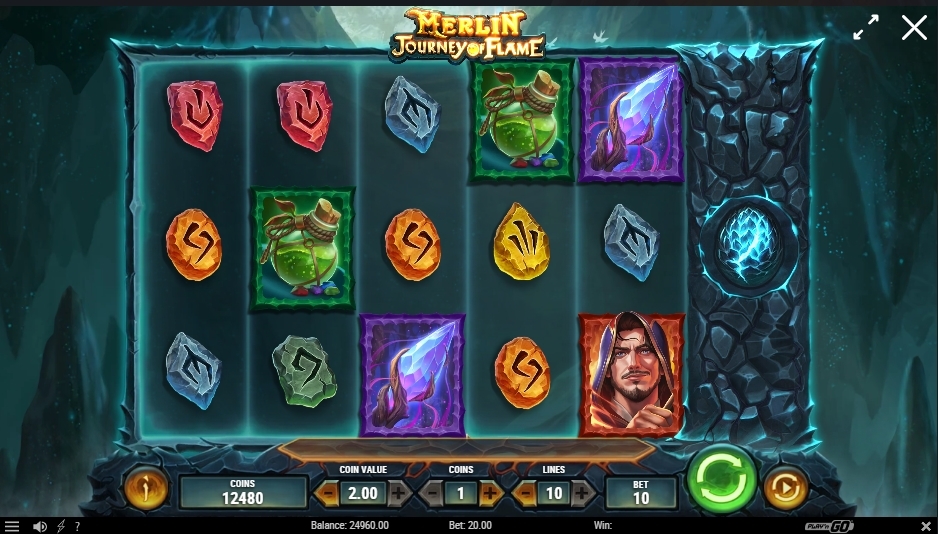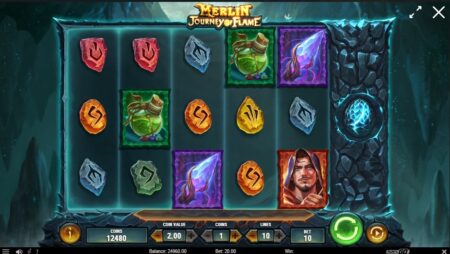 Pros
Unique theme centered around Merlin
Innovative Free Spins with an extra sixth reel
The Gamble Spell feature for risk-takers
Expanding Symbols for higher wins
Cons
Lack of information on RTP and volatility
Some features like the Gamble Spell may be risky for conservative players

Merlin Journey of Flame – A Magical Encounter with Wins and Thrills
Ah, the life of a young wizard is never dull, and in Merlin: Journey of Flame, the stakes are as high as ever. Our youthful protagonist, Merlin, embarks on what appears to be a massive-scale egg hunt, but these aren't your average eggs. Stumbling upon a swampy enchanted lake, Merlin finds a series of Dragon Eggs. Armed with his Book of Spells, he manages to hatch one of these mystical eggs. However, as one would expect when meddling with dragon lore, this act triggers a trial by fire. Your task, if you're up for the challenge, is to guide Merlin through this scorching predicament.
Key Game Specifications
Specifications
Release Date: July 13, 2023
Game Type: Video Slot
Provider: Play'n GO
Layout: Yet to be determined
Paylines: To be confirmed
RTP: Pending
Volatility: Unknown
Minimum Bet: TBD
Maximum Bet: TBD
Languages: English, Spanish, French, German, and others
Exceptional Features of Merlin: Journey of Flame
Magic Runes
When you enter this magical universe, your initial goal is to match three or more coloured Rune symbols to secure a win. In this game, Merlin isn't just the hero; he also functions as a High-Paying symbol. Additionally, the Dragon Egg serves as your Wild symbol, and its hatched version is the Scatter.
Free Spins with an Extra Reel
If you can help Merlin obtain three or more Hatched Dragon Egg Scatters, you'll trigger up to eight Free Spins. Here's the kicker: an extra sixth reel is added during this feature, increasing your odds of spellbinding payouts.
Expanding Symbols
A Special Expanding Symbol is randomly chosen before the Free Spins start. This symbol expands to fill a reel when a winning combination is formed. High-Paying symbols such as Merlin, His Staff, Potion, and Spell Book only require two or more reels to trigger this feature. Meanwhile, the low-paying coloured Rune symbols need three or more reels to activate the Expanding Symbol mechanic.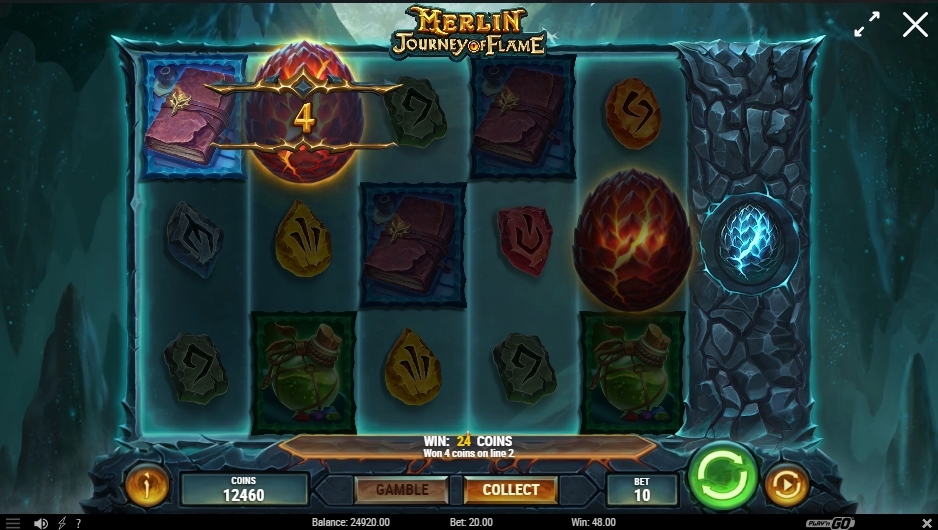 The Gamble Spell
If you find that your wins are less than 2500 coins, don't fret. Merlin has a Gamble Spell at his disposal. This feature offers a chance to double the winnings, although it comes with its own set of risks.
Meet Merlin: The Hero of the Story
Before he became the wise and revered wizard known in legend, Merlin was a thrill-seeker eager to prove himself in the realms of magic. This video slot game allows players to accompany the young wizard as he hones his craft, armed with a makeshift Book of Spells.
A First-Person Viewpoint
Speaking from years of experience, the features in Merlin: Journey of Flame are not just bells and whistles; they add substantial depth to the gameplay. Starting with the Magic Runes, this feature beautifully marries the thematic elements of the game with its mechanics. The Free Spins are lucrative and enriched by the additional sixth reel, offering players something genuinely special.
The Expanding Symbols feature enhances the potential for massive wins, making every spin a moment of sheer anticipation. As for the Gamble Spell, while it may be a gamble in the literal sense, the risk makes it all the more exhilarating. This feature invites you to decide how daring you want to be, adding a tactile element to the game that's often missing in other slots.
Merlin: Journey of Flame is an immersive experience that allows you to enter a world of magic, dragons, and untold riches. The game offers a balanced mix of risk and reward, making it perfect for both new players and seasoned slot veterans. With its compelling features and narrative-driven gameplay, this video slot stands as a testament to the creative potential of modern game design. So, are you ready to join Merlin on his adventurous quest?