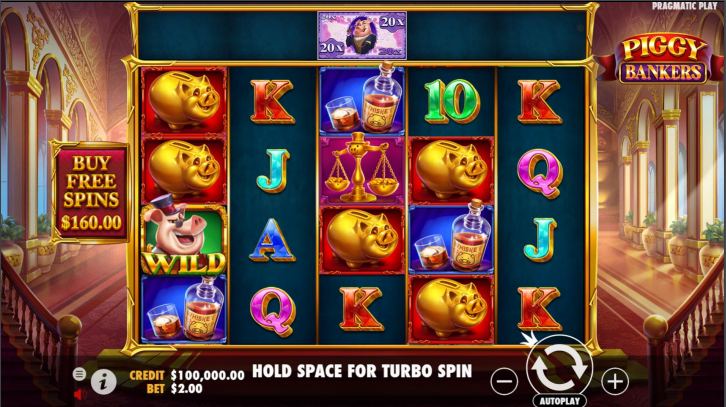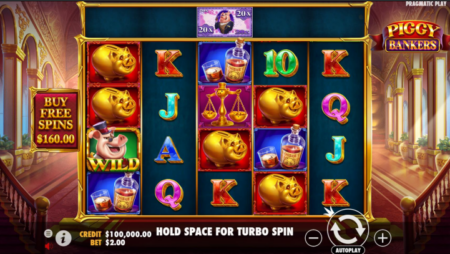 Pros
High maximum multiplier win of 5000x offers significant earnings.
Unique Free Spins feature adds an exciting twist to gameplay.
Versatile betting range caters to low-stakes and high-rollers alike.
Cons
Complex game mechanics may deter beginners.
Low frequency of high multiplier and free spins wins.
The Buy Spins feature could escalate financial risks.

Piggy Bankers™ Game Overview
Release Date: 22nd August 2023
Reels and Rows: 5 Reels, 4 Rows
Pay Lines: 20
RTP: 96.05%
Max Multiplier Win: 10,000
Minimum Bet Per Line: 0.2
Maximum Total Bet: 240
As someone who has been around the block with slots, I can tell you that Piggy Bankers™ offers a fascinating take on the classic slot setup. With a 4×5 grid, you have 20 lines to wager, making each spin a nail-biter in its own right. The maximum total bet you can place stands at a whopping 240, which means this game can quickly make or break your day.
The Gameplay Experience
The reels are set to 4×5 with 20 win lines, which is not that unusual. Yet, the game mechanics take a distinct path by incorporating not just one, but two types of wild symbols. These piggy banker wilds not only act as substitutes for other symbols, but they also engage in a dance across the reels that can unlock free spins and respins. What sets this game apart is the way it handles its wild symbols. The brown and green piggy banker wilds will shift when they are fully in view, initiating respins and changing the dynamics of the game with each spin.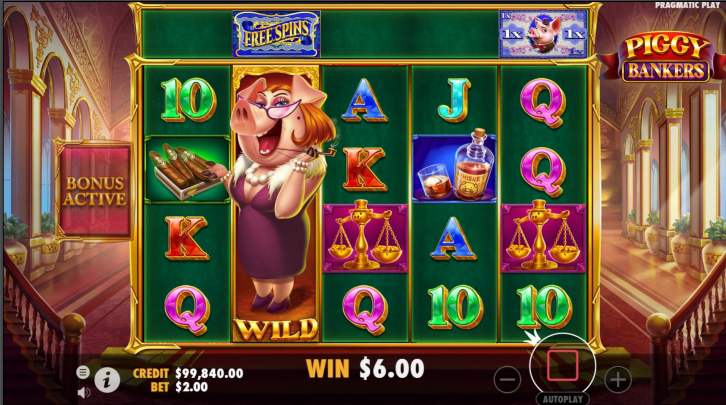 You'll notice a "Top Tracker" above the reels, which showcases either blank symbols or banknotes. These notes get collected only if a whole reel below them turns into a wild piggy. What's more, when two wilds collide on the same reel, the money symbol is collected twice, adding a layer of complexity and excitement to the game.
The free spins in Piggy Bankers™ come with a unique twist. Triggered by colliding wilds, the free spins are played out in batches of five. Any wild symbol initiating the respin in the free spin round can result in multiple wins, essentially creating a chain reaction of potential payouts.
The statistics back up the gameplay's volatility. With a base game hit frequency of 1 in 3.72 and a free spins hit frequency of 1 in 204, it's a slot that can give you smaller wins more frequently but makes you work for the bigger payoffs. Given the RTP of 96.05%, it provides a fair playing field while keeping the adrenaline high.
All in all, the gameplay of Piggy Bankers™ offers a balanced mix of risks and rewards, keeping you on the edge of your seat. If you're in the mood for a challenging and strategic slot game, Piggy Bankers™ could be exactly what you're looking for.
Conclusion
If you're in search of a slot game that goes beyond the usual bells and whistles, Piggy Bankers™ might be your next favorite game. With complex mechanics, a range of wild symbols, and multiple avenues for winning, it's an enticing option for those who appreciate a challenging and rewarding gameplay experience.
Would I recommend Piggy Bankers™? Absolutely, especially if you're someone who thrives on strategic depth and high stakes. Just remember, this game can be both rewarding and unforgiving in equal measure. Happy spinning!