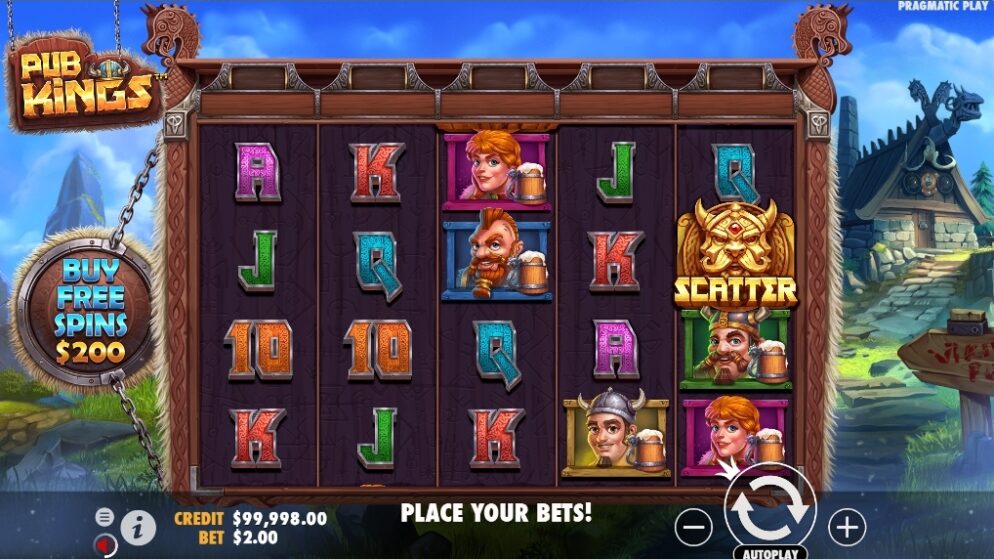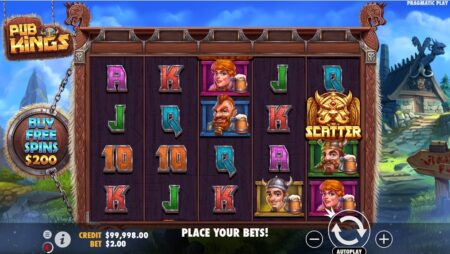 Pros
High maximum multiplier win of 5000x offers significant earnings.
Unique Free Spins feature adds an exciting twist to gameplay.
Versatile betting range caters to low-stakes and high-rollers alike.
Cons
Very high volatility may deter players seeking frequent small wins.
Game mechanics can be overwhelming for beginners.
'Buy Spins' feature presents a risk of financial loss.

Pub Kings Slot Review: A Viking Adventure with Thrilling Rewards
Ever wondered what it would be like to share a pint with a Viking king? Pub Kings answers that question with its engaging gameplay, steeped in Norse mythology and fused with modern gaming features. This slot game not only invites you to the taverns of old but also offers numerous ways to win big.
Gameplay Mechanics
The layout of Pub Kings consists of 4 rows and 5 reels, with a total of 20 paylines. Players aim to make winning combinations on these paylines to secure rewards. The game boasts 11 different symbols, 10 of which are regular and contribute to standard payouts. The 11th symbol is a scatter, which doesn't offer a payout but holds the key to the game's unique free spins feature.
Scatter and Free Spins
An intriguing element in Pub Kings is its free spins round. Unlike other slots, the scatter symbol only appears on the first, third, and fifth reels. Getting at least two of these in a spin can unlock random prizes of up to 5000x your bet. It's not just about landing the scatters, though. In the free spins round, high-paying symbols are linked to specific reels. As these symbols appear, they accumulate, with the total sum paying out as cash prizes when the round concludes.
Risk and Reward: RTP and Volatility
One of the first things experienced slot players look at is the Return to Player (RTP) percentage and the volatility level. With an RTP of 96.08% and a "Very High" volatility rating, Pub Kings is a game designed for thrill-seekers. The base game hit frequency stands at 1 in 4.37, while the free spins hit frequency is more elusive at 1 in 221. While the game presents a higher level of risk, the potential for high payouts balances out the equation nicely.
Additional Features
For those who can't wait to get into the action, Pub Kings offers a 'Buy Spins' option. This feature allows you to purchase free spins and skip straight to the most exciting part of the game. However, exercise caution when using this feature, as the stakes are high and losses can accumulate quickly.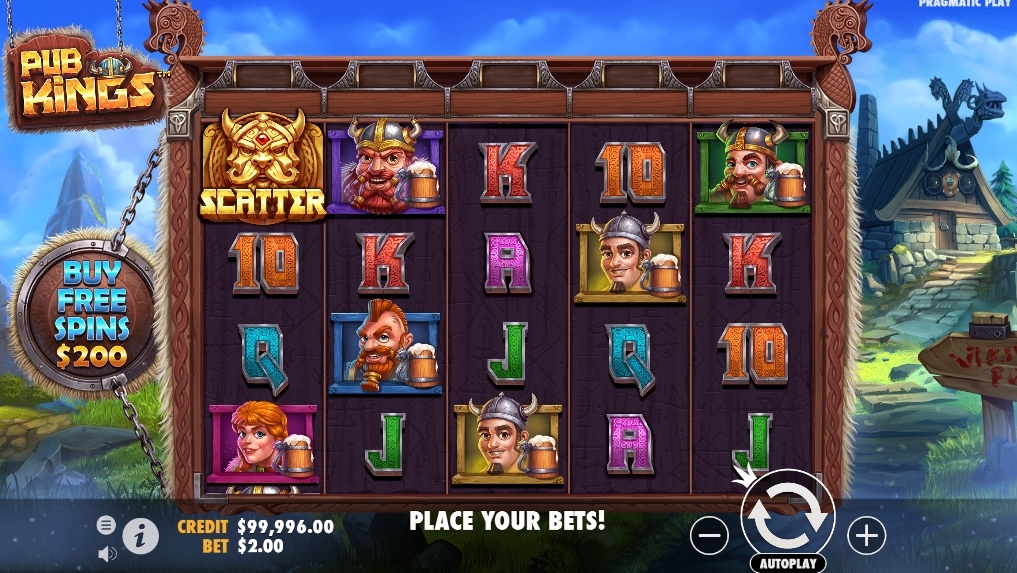 Compatibility and Availability
Pub Kings is a versatile game, compatible with various platforms. Whether you prefer playing on a desktop or on the go with your mobile device, the game adjusts beautifully to different screen sizes. Its replay function also adds a level of convenience, allowing you to revisit your gameplay and analyze your strategies.
The Final Verdict
Pub Kings isn't just another slot game; it's a high-stakes adventure that successfully combines elements of Norse mythology with the excitement of modern slot gameplay. The inclusion of unique free spin features and high multipliers adds layers of complexity and excitement to an already captivating game. With its very high volatility and tantalizing payout possibilities, this is one slot game that should be on every serious player's radar.
Game Specifications
Release Date: 22nd August 2023
Game Type: Video Slot
RTP & Volatility: 96.08%, Very High
Minimum Bet: 0.2
Maximum Bet: 240
Lines: 20
Reels: 5 x 4
Pub Kings is an electrifying addition to the world of online slots, providing a gaming experience that appeals to players who appreciate risk, reward, and a good storyline. Whether you're a seasoned pro or new to the game, Pub Kings offers an enticing journey filled with potential riches.
Pros and Cons of Playing Pub Kings Slot Game
Pros
High Payout Potential
With a maximum multiplier win of 5000x, Pub Kings offers players the chance for significant earnings. It adds a level of excitement that keeps each spin interesting.
Unique Free Spins Feature
The Free Spins round in Pub Kings is not your standard fare. High-paying symbols become linked to specific reels during this feature, providing a fresh twist on traditional slot mechanics.
Versatile Betting Range
The game accommodates a variety of betting preferences with its minimum bet of 0.2 and a maximum bet of 240. This makes it accessible to both low-stakes players and high-rollers.
Replay Functionality
Pub Kings allows you to revisit past games, offering a chance to review your playstyle and make necessary adjustments for future games.
Cross-Platform Compatibility
Whether you're at home on your desktop or on the move using your mobile device, Pub Kings seamlessly adapts to your preferred platform.
Cons
Very High Volatility
The game's very high volatility means it's riskier and might not be suitable for players who prefer frequent but smaller wins.
Complicated for Beginners
With its unique Free Spins round and a host of high-paying symbols linked to specific reels, the game can be overwhelming for new players.
'Buy Spins' Option Risks
While the 'Buy Spins' feature may offer a shortcut to excitement, it comes with the risk of significant financial loss if used recklessly.
Lack of Progressive Jackpot
Some players may miss the absence of a progressive jackpot feature, which could offer life-changing wins.
Conclusion
Pub Kings offers a thrilling experience for players seeking a game that goes beyond the basic mechanics of slot gaming. However, the high level of risk means this game is better suited for those who are comfortable with less frequent, but potentially larger, wins. Overall, the game's rich features and high payout potential make it an attractive option for seasoned slots enthusiasts.