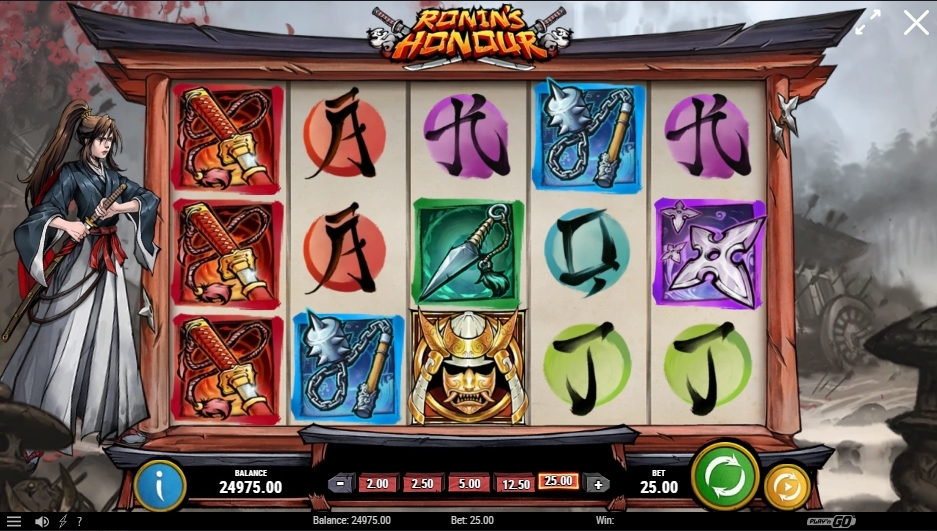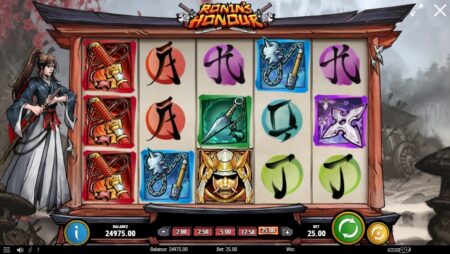 Pros
Stellar theme presentation capturing the essence of feudal Japan
Innovative features like Dynamic Payways and Battling Free Spins
Suitable for a wide range of players due to balanced volatility
Cons
Limited variety of bonus features may not cater to all tastes
Medium volatility might not be ideal for those seeking huge, quick wins

Introduction to Ronin's Honour
Experience the thrill of the Samurai way with Ronin's Honour, an immersive online slot game designed by Play'n GO. Launched in June 2023, this game whisks players away to the feudal era of Japan, providing a captivating mix of history and adventure.
The Theme and Symbols of Ronin's Honour
Ronin's Honour is steeped in Japanese culture, with a serene landscape featuring ancient temples as the backdrop. The game's symbols include beautifully illustrated Samurai, Ronin, Shogun, and Geisha, each exuding a sense of grace and valor. The lower-value symbols comprise ornate playing card icons that seamlessly blend with the game's theme. You can immerse yourself in this fascinating world at various platforms, including free slots.
Gameplay and Special Features of Ronin's Honour
Ronin's Honour is played on a 5×3 reel grid and offers 243 ways to win. The Ronin symbol serves as the game's wild, replacing other symbols to form winning combinations. The Samurai and Shogun symbols play pivotal roles in the game, leading to engaging bonus features and special rounds.
Free Spins and Bonus Features
Three or more Shogun scatter symbols landing on the reels trigger the Shogun Free Spins feature. Players receive a certain number of free spins, depending on the number of triggering scatters.
During the Free Spins round, the Ronin symbol takes on an expanded role. If the Ronin wild forms part of a winning combination, it expands to cover the entire reel, creating more potential wins.
What Other Websites Say About Ronin's Honour
Ronin's Honour has been warmly received by the online gaming community since its release. Players and critics alike commend the game's immersive theme, beautiful graphics, and engaging special features. The expanding wilds during the Free Spins round have been particularly praised for their potential to create lucrative wins.
Useful Information About Ronin's Honour
Ronin's Honour caters to a broad range of players, with a betting range from 0.20 to 100 coins per spin. The game offers a RTP (Return to Player) rate of 96.25%, suggesting medium volatility. This implies a balance between frequency and size of potential wins.
Furthermore, the game provides detailed game rules, an autoplay feature, and is fully mobile-compatible. It also offers a free play version, allowing players to try the game without any financial commitment.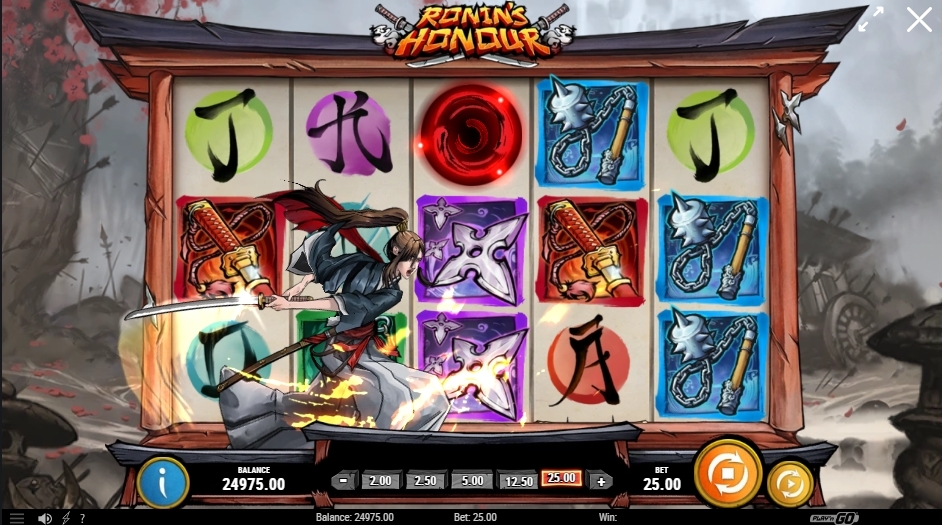 My Thoughts About Ronin's Honour
In my opinion, Ronin's Honour is an excellent addition to the catalogue of Asian-themed slots. Its beautifully crafted theme, coupled with the engaging bonus features, makes the game a joy to play. The expanding wilds during the Free Spins round significantly enhance the game's excitement and potential rewards.
However, some players might wish for more variety in bonus features. Regardless, the game's high-quality graphics, immersive theme, and balanced gameplay make Ronin's Honour a must-try for any slot enthusiast. I invite players to share their views about the game in the comments section.
Ronin's Honour is not just a slot game but an artistic venture into feudal Japan. Play'n GO has crafted a piece that pays homage to the rich culture of the Samurai era, touching on both its visual splendors and dramatic narratives. The Ronin character encapsulates this blend, serving as both the game's hero and a visual spectacle, keeping true to the tale of a lone warrior seeking justice.
The game mechanics in Ronin's Honour are equally impressive, mirroring the sophistication of its theme. The Mystery Splitting Symbols offer a novel take on the conventional payways, adding a level of unpredictability and excitement. The showdown with Hannya in Battling Free Spins is a game-changer, to say the least. Not only does it further the narrative, but it also injects a level of intensity that many slot games lack.
The game caters to various types of players, with its balanced volatility and wide betting range. The RTP of 96.25% assures that the game remains fair, although it sits at a medium volatility level, indicating a decent balance between win frequency and size. This strikes a chord with both low and high rollers, especially those who have an appreciation for a story-driven gaming experience.
What sets this game apart, however, is its dedication to theme. The ambient soundtrack, complemented by the artistic prowess evident in every symbol, creates a fully immersive experience. For those who have a keen interest in Asian culture or even just high-quality slot games, Ronin's Honour is a worthy pick.
However, it's important to point out that the game could benefit from additional bonus features. While the existing mechanics are engaging, introducing more variations could elevate the gameplay further, adding another layer of complexity and excitement.
In closing, Ronin's Honour proves to be more than a simple slot game. It is an elaborate mix of storytelling, artistry, and gaming innovation. Its slight shortcomings are vastly overshadowed by its multiple strengths, making it an easy recommendation for anyone who loves slots with a twist.
Online Slots RNG Auditors
Online slots, including Ronin's Honour, are audited for fairness and reliability by respected organizations. These include:
Department of Internal Affairs NZ
Office of the Auditor General of Ontario
Kahnawake Gaming Commission
UK Gambling Commission