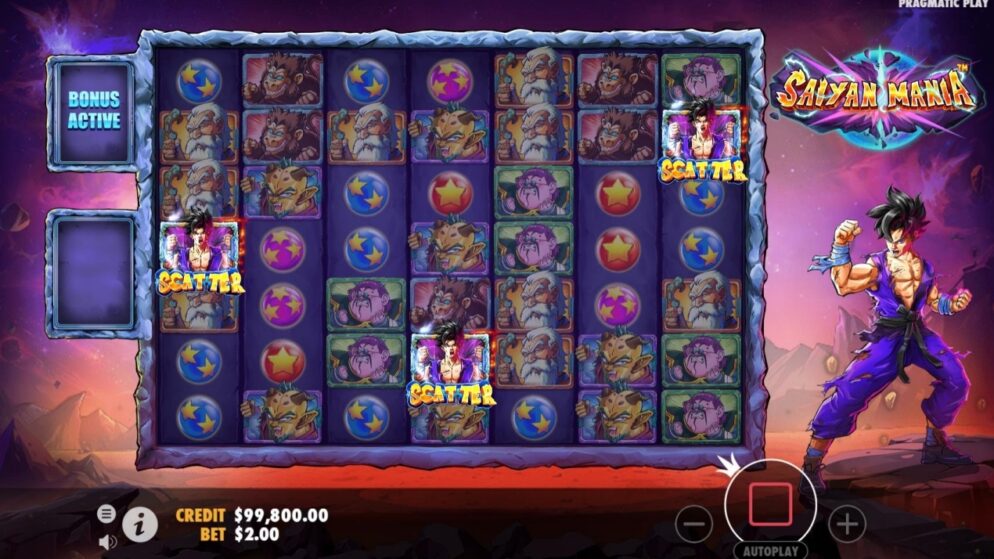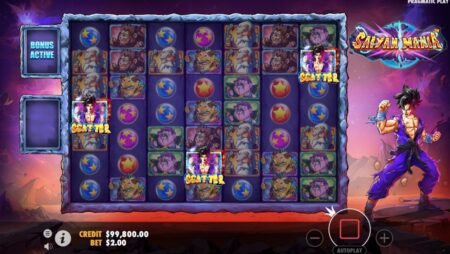 Pros
High RTP of 96.50% offers potential for lucrative wins.
Innovative tumbling feature for consecutive wins.
Feature-rich with Replay, Buy Spins, and Free Bonus options.
Cons
High volatility might deter cautious players.
The Saiyan theme might not be universally appealing.

Introduction to Saiyan Mania™
Launched on September 5th, 2023, Saiyan Mania™ is a high-volatility slot game that offers thrills suitable for a warrior. It comes with a 7×7 grid and a fascinating feature set, including tumbling mechanics and multipliers.
SPECIFICATIONS
Release Date:
5th September 2023
Game Type:
Video Slot
The Theme and Symbols of Saiyan Mania™
Set in a universe inspired by Saiyan warriors, the game offers colorful Saiyan characters and balls as its symbols. The visual effects in the game echo the combat and intensity of the Saiyan world, adding another layer of engagement to your experience.
Gameplay and Special Features of Saiyan Mania™
Saiyan Mania™ uses a 7×7 grid and employs a tumbling mechanism. Wins are made by landing clusters of five or more symbols. After a win, the tumble feature activates, replacing winning symbols with new ones that fall from above. This allows for the possibility of consecutive wins.
Free Spins and Bonus Features
Landing three or more Scatters triggers a free spins bonus round, with up to 30 free spins up for grabs. During the free spins, marked multiplier spots remain and can increase with subsequent tumbles.
What Other Websites Say About Saiyan Mania™
This game has been met with enthusiasm, thanks to its combination of high volatility and intricate features. The tumbling mechanism and the addition of multipliers offer layers of complexity that keep players engaged.
Useful Information About Saiyan Mania™
The game offers a high RTP of 96.50% and has a high volatility rating. It caters to various betting ranges, from a minimum bet per line of 0.01 to a maximum total bet of 100. The game also includes Replay, Buy Spins, and Free Bonus features.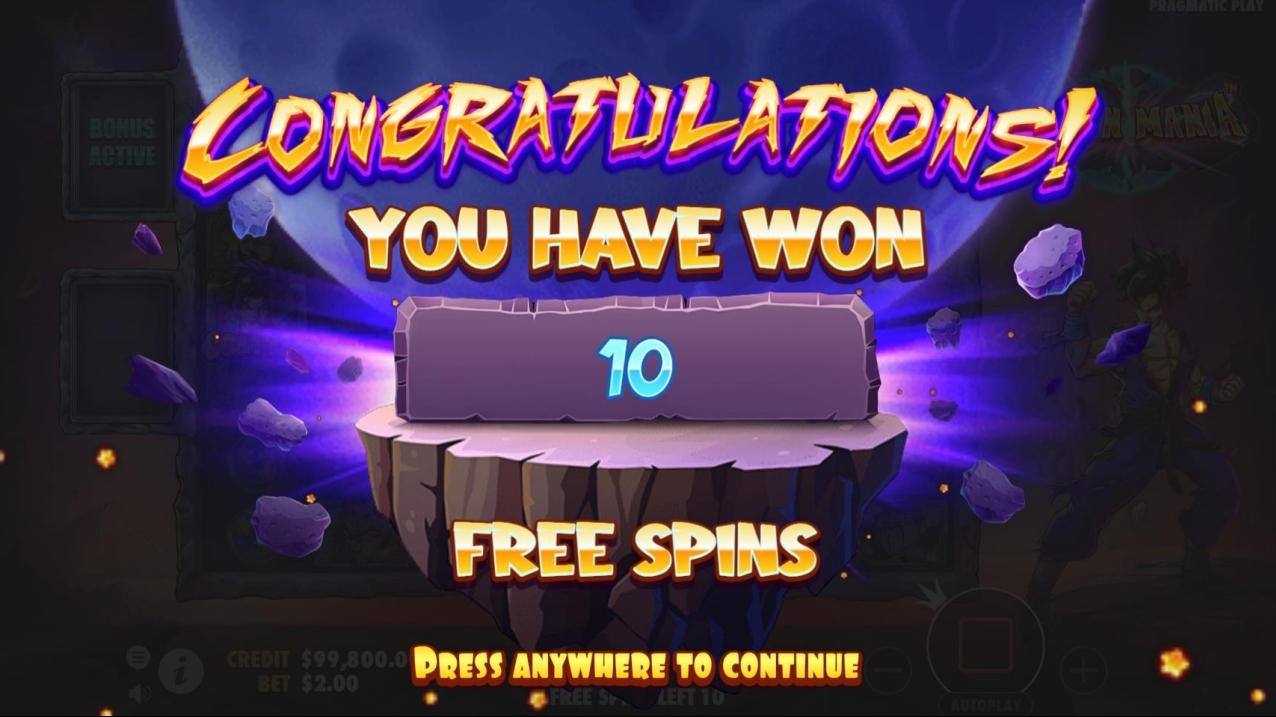 My Thoughts About Saiyan Mania™
Saiyan Mania™ offers a unique gaming experience with its 7×7 grid and tumbling feature. The high volatility and RTP make it a fitting game for those who appreciate risks and rewards. While some may find the game's theme niche, its feature set offers enough excitement to appeal to a broader audience.
Saiyan Mania™ manages to incorporate the thrills of a warrior's life into a slot game. The game offers a high RTP of 96.50%, indicating the likelihood of substantial rewards. The multipliers, particularly when they stack, add a level of excitement to each spin. They provide players with a reason to invest time and, potentially, money into the game.
The Saiyan theme is executed well, and while it might not appeal to everyone, it adds an element of fun and engagement that many slots miss. One of the standout features is the tumbling mechanism, which increases the chance of back-to-back wins, keeping the game dynamic. It also sets up a scenario where players can enjoy the thrill of seeing multipliers build up, adding both to the suspense and potential payouts.
However, the high volatility may not suit everyone. While it offers the possibility of large wins, it also implies the risk of significant losses. It's worth noting that the game offers various features like Replay, Buy Spins, and Free Bonus, giving players more control over their gameplay experience. This offsets some of the inherent risks of a high-volatility game.
In conclusion, Saiyan Mania™ is a well-executed slot game that delivers on its promise of warrior-like thrills. It offers a balanced feature set that adds layers of excitement, making it a good choice for players who like high-stakes games.