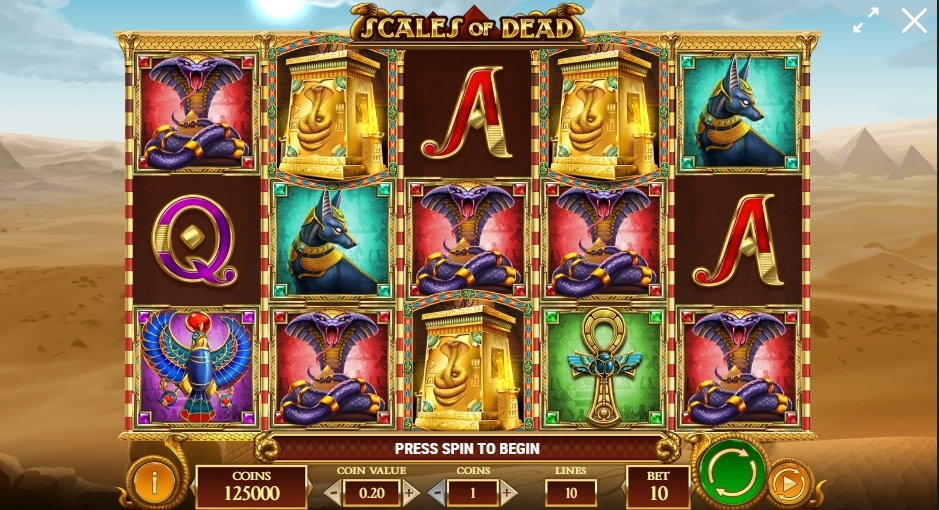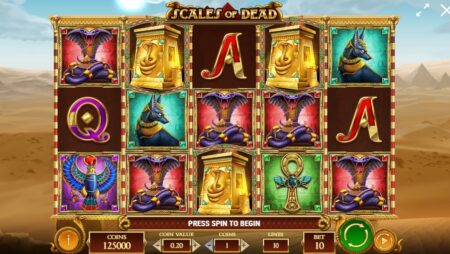 Pros
Captivating Egyptian theme
Exciting Game Mechanics
Stunning visuals and interesting audio
Multiple bonus features for increased winning potential
Medium volatility with the potential for massive wins
Cons
Requires patience due to medium volatility
Limited betting range

Scales of Dead Slot Review: Unearthing the Golden Snake Tomb
Ah, the allure of Ancient Egypt! The mystery, the treasure, the hidden tombs waiting to be discovered—it's irresistible. It's not just the setting that fascinates me, though. As a slots aficionado with an inclination towards Egyptian-themed slots, I'm thrilled to bring you my expert analysis on Play'n GO's latest offering: Scales of Dead. The game was released on September 7, 2023, and it does a spectacular job at merging visually appealing elements with engaging gameplay.
What's the Story?
The narrative behind Scales of Dead is an enthralling one. You accompany a daring scout who has embarked on a quest through Ancient Egypt, aiming to find the elusive Golden Snake Tomb. Said to be laden with riches beyond imagination, the tomb has been a subject of legend for centuries. Will you be the lucky adventurer to help the scout locate it?
Gameplay Features
Before we get into the nuts and bolts, let's talk about winning. Matching at least three symbols of Coloured Royal, Serpent, Fox, Falcon, or Amulet will get you on the board. Sounds simple, right? But this is just scratching the surface.
Original Free Spins
A sandstorm is usually something you'd want to avoid, but not in Scales of Dead. When three Tomb Scatters appear, courtesy of an in-game sandstorm, you're in for some Free Spins. Up to eight of them, in fact. The kicker here is the introduction of Special Symbols and Multipliers during this bonus round, elevating your winning potential substantially.
Expanding Symbols
Then we have the Expanding Symbols. This feature triggers based on the number of winning symbols you land after a win. For low-paying symbols, you'll need to land a special symbol on at least three reels. High-paying symbols? Just two reels will do. Once activated, a unique symbol takes over the affected reels, amplified by glittering, gold-infused animations that serve both aesthetic and rewarding purposes.
Sandstorm Free Spins
Intriguingly, the game offers another Free Spins feature: the Sandstorm Free Spins. You can activate this by landing two or more Scatter symbols during your Free Spins round. This grants four additional Free Spins with a random Multiplier. True to its name, this feature is as unpredictable as a desert storm. To sweeten the pot, landing two additional Scatter symbols can re-trigger the Sandstorm Free Spins, boosting your winnings even further.
The Gamble Round
There's also a Gamble tool for those who want to up the stakes. If your winnings are under 2500 coins, you can choose to gamble. A correct guess on the card color doubles your wins, and the correct suit quadruples it. However, remember that this feature is capped at five consecutive attempts or up to 2500 coins.
Artistic Design
Visually, Scales of Dead is a feast for the eyes. A backdrop of golden hues mixed with sky-blue accents sets the stage, while the vibrantly designed in-game symbols—representing various elements like royal insignias and animals—enhance your overall gaming experience.
Technical Specifications
Release Date: September 7, 2023
Game Type: Video Slot
Final Thoughts
Scales of Dead is a commendable addition to the Egypt-themed slots universe. Its combination of arresting visuals, engaging features like Free Spins and Expanding Symbols, and a gamble option for thrill-seekers, make it more than worth your time. Whether you're in it for the storytelling or the chance to win big, this title will surely captivate your interest. Until the next slot adventure, may the odds be ever in your favor!