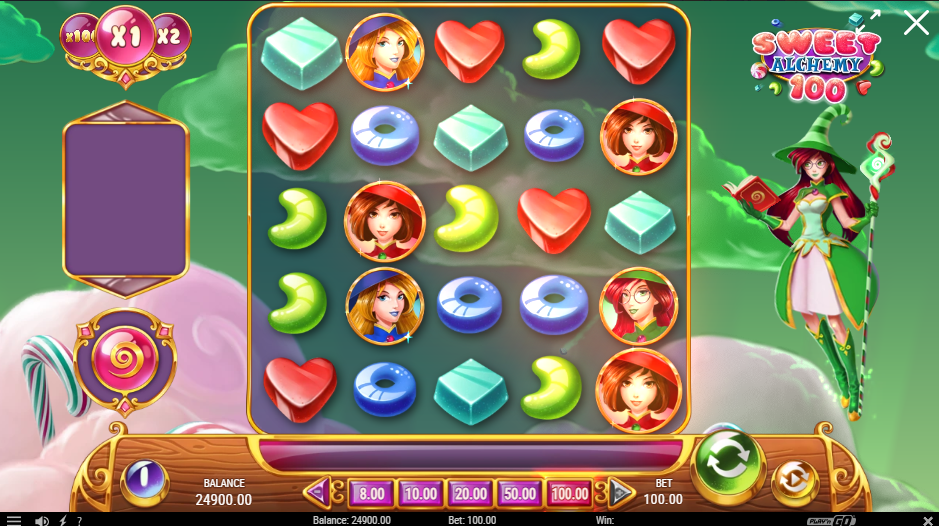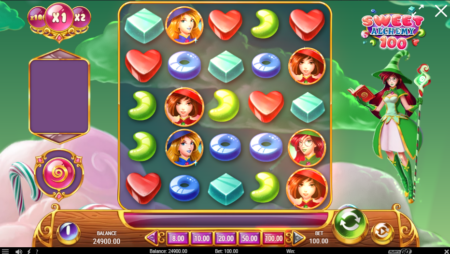 Pros
Engaging storyline with strong character development
Unique features for increased player engagement
Offers multiple ways to win
Visually appealing graphics
Well-balanced gameplay dynamics
Cons
May be too complex for newcomers to slots
The random nature of Witch Powers can be a turnoff for strategic players
Win Multiplier caps might discourage high-rollers

Sweet Alchemy 100: Candy's Classroom of Magical Treats and Rewards
Sweet Alchemy 100 isn't a mere slot game but rather a meticulously crafted tale within a magical, sugary universe. When Candy the Witch decided to mentor her younger sisters—Cherry, Berry, and Apple—she didn't just pass on her knowledge; she turned her witching world into a sorcery academy. The objective isn't only to offer an interactive slot experience, but also to immerse the player in a narrative-rich environment. Here, players are more than mere spectators; they are an integral part of the unfolding drama. Your role becomes all the more crucial as you help the junior witches climb the ladder of magical prowess, learning more complex spells and participating in grander missions.
Specifications and More
Key Game Information
Release Date: July 27, 2023
Game Type: Video Slot
Provider: Play'n GO
Reels: 7×7 grid layout
RTP: 96.5%
Volatility: Medium to High
Minimum Bet: $0.20
Maximum Bet: $100
Languages: Available in multiple languages, including English, Spanish, German, and French
A Comprehensive Look at Features
Base Abilities in Detail
The game is not your standard slot game with traditional reels. Instead, it comes with a 7×7 grid where players can achieve wins by removing Heart, Sugar Cube, Bean, or Donut symbols. Each of these symbols carries different point values, and certain combinations can produce massive rewards. The dynamics of removing these symbols make each spin an event to look forward to, as you never know what you're going to get next.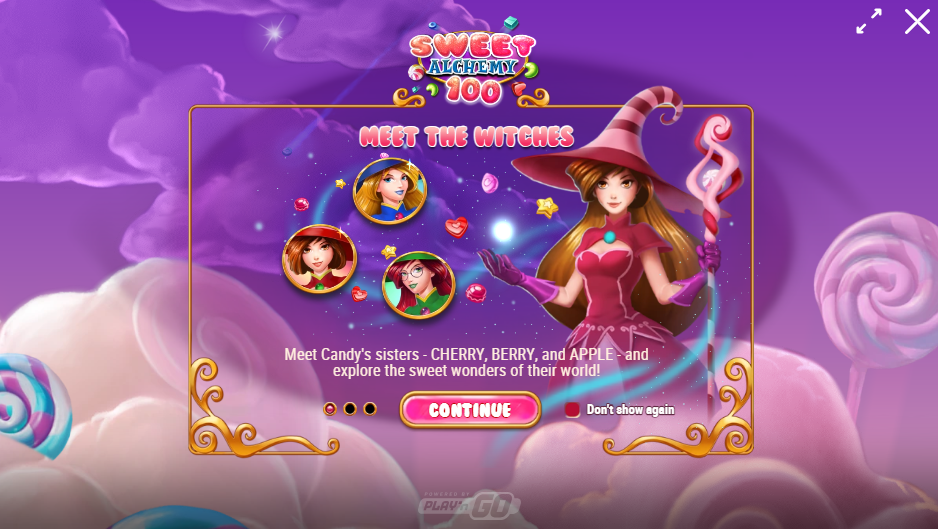 Witch Powers: More than Just a Sideshow
Witch Powers aren't just an added feature; they're almost like a secondary game within the main game. If the reels aren't turning in your favor and you're stuck in a rut with non-winning spins, one of the three sister witches—Cherry, Berry, or Apple—comes to your aid.
Cherry has the ability to magically convert a low-paying symbol into a high-value one, immediately transforming your chances of a win. Berry takes a different approach by adding extra symbols to the reels, potentially unlocking a winning combination. Apple, on the other hand, can remove up to two types of low-paying symbols from the grid, making room for potentially lucrative high-paying symbols to take their place.
Trinity Meter: An Achievement Tracker and More
If you think of the Trinity Meter as just another bar that fills up, you'd be underestimating its potential. This element serves as an achievement tracker, a milestone reward system, and a game-changing mechanism all rolled into one. As you continue to secure high-paying wins, the Trinity Meter gradually fills up. Once it's full, it triggers the Trinity feature, which sets off a chain reaction of in-game events, ultimately culminating in a free spin round where you can rake in substantial winnings.
Free Spins: The Epitome of Excitement
Free Spins are arguably the zenith of the Sweet Alchemy 100 experience. Once triggered, you have the liberty to choose your guide for this feature. Depending on whether you opt for Cherry, Berry, or Apple, different numbers of free spins will be awarded, along with unique non-winning effects that are active during this round.
Win Multiplier: How Sweet It Is
While the win multiplier is capped at x100, don't dismiss it as insignificant. When you manage to clear the entire grid, the Clear Grid Prize kicks in, offering a win multiplier of 50x on top of your existing bet. It serves as an exciting conclusion to a thrilling gameplay experience, giving you a reason to keep coming back for more.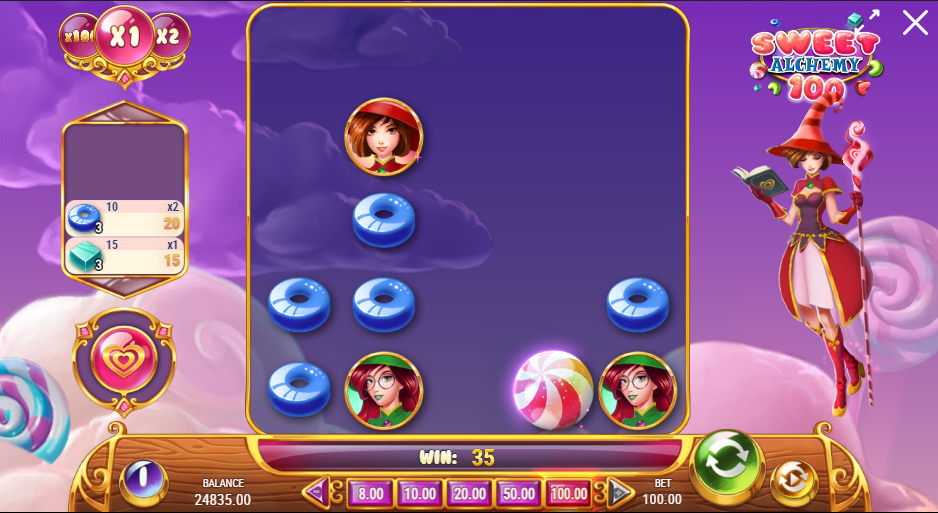 More on the Characters
Candy the Witch in Her Expanded Role
No longer merely an element within a grid game, Candy the Witch is now a nurturing figure, taking her younger sisters under her wing. Her dynamic character undergoes a significant shift as she transitions from a lone protagonist to a loving mentor, adding a whole new layer to the narrative.
Cherry, Berry, and Apple: Not Just Sidekicks
These three young witches are not just side characters or mere additions to the narrative. With each spin, they continue to grow and evolve, gaining more experience and expertise in the art of sorcery. Their developments aren't merely cosmetic; they influence gameplay, making them indispensable to your overall experience.
Are You Ready for Sweet Sorcery?
Now that you've received a detailed overview of what Sweet Alchemy 100 brings to the table, the question remains: are you ready for this delectable journey into a world of magical treats and sweet wins? It's not just a slot game; it's an adventure waiting to be experienced. Do you have what it takes to master the arts and claim the sugary spoils?