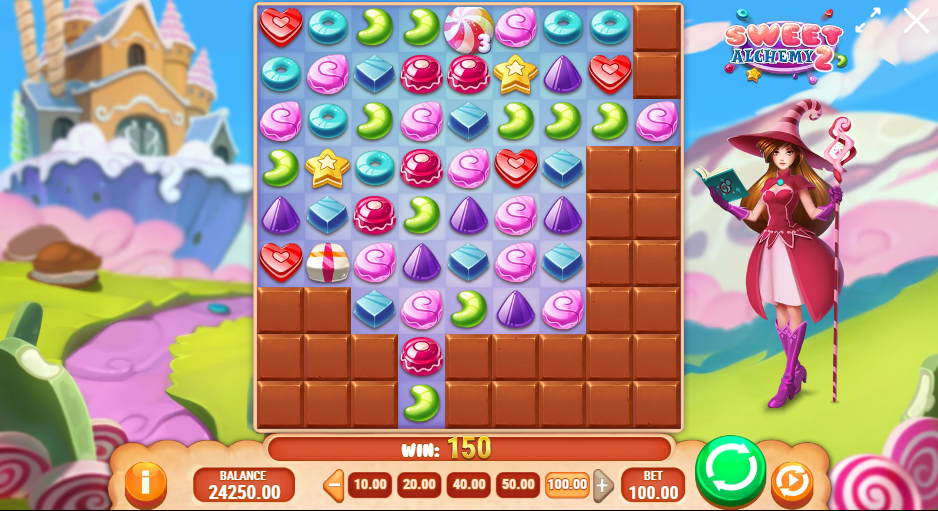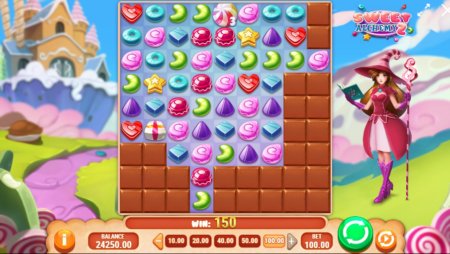 Pros
Engaging gameplay with numerous features
Cascading wins offer thrilling win opportunities
High volatility is perfect for thrill-seekers
Visually captivating with stellar graphics
Cons
May be too complex for beginners
High volatility could be risky for some players

Sweet Alchemy 2: Candy the Witch Returns with More Sugary Magic!
Friends, if you remember the magic and allure of the original Sweet Alchemy, then brace yourselves for its sequel, Sweet Alchemy 2. Play'n GO has outdone itself yet again. Candy the Witch is back, and she's armed with an enchanted staff and a cauldron overflowing with deliciously lucrative candies.
What's Cooking: Gameplay Overview
A Mouthful of Features
If you thought the original game was exciting, wait till you experience the gob-stopping features that have been cooked up for Sweet Alchemy 2. Your mission, if you choose to accept it, is to clear Star, Cube, and Pastille candy clusters from the grid. The game lets you wield the Grid Expansion feature, a pathway to winning prizes that will have you buzzing on a sugar high in no time.
The Nitty-Gritty of Symbols
Cascading symbols are the hallmark of this game. The Chocolate Blockers vanish during cascading wins, making room for new symbols and boosting your chances of hitting the jackpot. But the real stars are the Permanent Wilds, which maintain their position to help form new wins, and the Striped Treat Wilds, which can explode in vertical or horizontal directions when part of a winning cluster.
Bonus Spins, Big Wins
Let's talk about Free Spins. Clearing all the Chocolate Blockers triggers this feature, handing out four Free Spins, alongside Mega Symbols that could potentially be part of the deal. Clear all the blockers during these Free Spins, and you get four extra spins and even bigger Mega Symbols.
The Bonus Game Saga
The Bonus Game feature takes the excitement up a notch. It's like a candy-coated wheel of fortune, compelling you to carve a path to its lucrative center. Land on Multiplier segments to amp up your Multiplier, or land on empty segments to lose a life. Depending on how far you go, you could be looking at a Win Multiplier of up to x25 your original bet.
Gameplay Commentary: A Deeper Understanding
Sweet Alchemy 2 is a triumph in slot game evolution, offering cascading mechanics paired with a variety of win-boosting features. The gameplay isn't just about spinning; it's about managing resources, like Permanent Wilds and Chocolate Blockers, to maximize each cascade. The presence of multiple features and the Bonus Game adds strategic depth, letting players weigh risks and rewards in real-time. With high volatility and an RTP of 96.2%, every spin is an adrenaline-filled moment, especially given the prospect of landing the massive x25 multiplier. It's a sophisticated, enthralling experience, a masterclass in modern slot game design.
Meet the Magical Characters
Candy the Witch isn't alone in this game. She's back and bolder than ever, armed with her magical staff and a cauldron brimming with delectable sweets. With every spin, she conjures Pastille, Chocolate, and Star candies that turn your spins into sugary adventures.
Game Specifications
Release Date: June 15, 2023
Game Type: Grid Slot
Developer: Play'n GO
RTP: 96.2%
Volatility: High
In summary, Sweet Alchemy 2 stands as a gem in the realm of grid slots. The combination of mesmerizing graphics, highly interactive gameplay, and a captivating theme make this title a must-try. The game builds upon its predecessor and pushes the envelope in terms of what a grid slot can offer. Don't just take my word for it; give those reels a spin and taste the magic yourself!