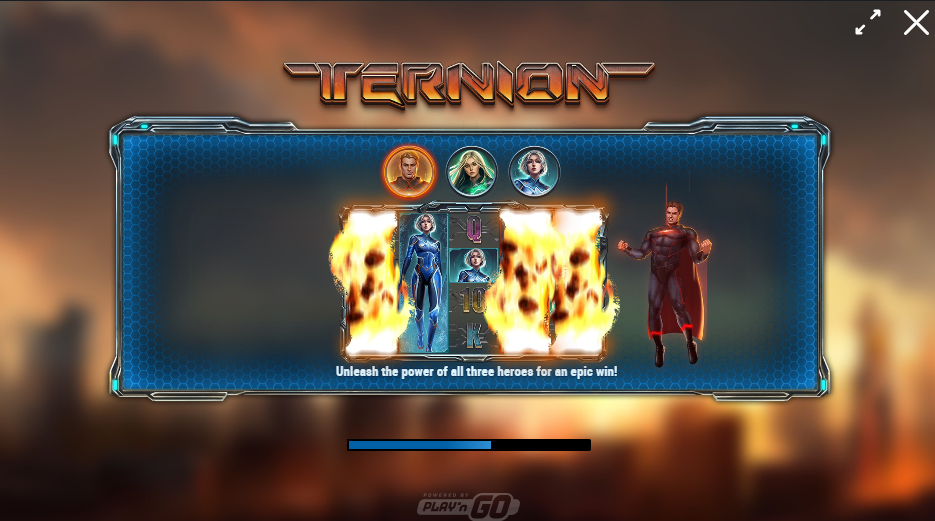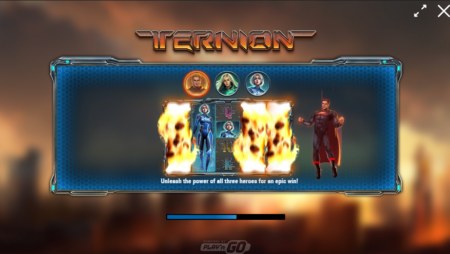 Pros
High volatility for major wins
Engaging theme and interactive gameplay
Loaded with unique features
High RTP at 96.4%
Cons
May be overwhelming for beginners
High volatility can be risky

Ternion: Saving the Day with Superheroic Slots!
Let's Talk Story: The Plight of Victory City
People, if the anticipation surrounding Play'n GO's new slot Ternion was high, the reality is nothing short of explosive. Victory City is under siege from all sorts of calamities – monsters, meteors, you name it. The Doomsday Device is active and ticking. Who's going to save the day? Ternion, the superheroic trio of Marvelosa, The Incredible Wonder, and Windstorm, that's who. Are you ready to join forces with them?
Suit Up: Gameplay Essentials
Loaded Reels and Stacked Symbols
As you'd expect from any high-stakes mission, the gameplay features are pretty crucial. Align three or more superhero symbols to score a win. What's more, random superpowers can kick in on any spin to amplify your winnings. These aren't your everyday, run-of-the-mill features, either.
Superpowers Galore
Marvelosa, The Incredible Wonder, and Windstorm come loaded with powers. We're talking about adding individual wilds, stacking those wilds, and even removing low-value symbols from the reels. Each hero brings a different ability to the table, and the result is some truly high-powered teamwork.
Ternion Signal Scatters and Free Spins
Land three Ternion Signal Scatters, and you're thrust into the Free Spins round. You could amass up to 35 Progressive Free Spins, ratcheting up the game's intensity. During this feature, a Win Multiplier is triggered that multiplies your total win by increasing increments, one for each free spin.
The Energy Cell Meter
As you spin, you'll notice an Energy Cell Meter that you can fill up with Energy symbols. Once it's full, more superpowers are unleashed onto the reels, making Victory City safer while lining your pockets with rewards.
Folks, when it comes to engaging gameplay, Ternion stands in a league of its own. One of the first elements you'll notice is its high volatility, which matches the game's high-stakes, world-saving theme. With an RTP of 96.4%, every spin could either make or break your day, similar to how every action of our heroes could spell victory or doom for the city.
The game excels in the depth of its features. Unlike basic slots where the focus is merely matching symbols, your tactical prowess is also called into play here. Deciding when to push for more spins or hold back due to the game's high volatility becomes a tactical choice. The superpowers add a whole layer of unpredictability, making each spin a thrilling event.
And let's not overlook the Energy Cell Meter, a genuinely innovative feature. It provides an engaging way to trigger extra features and links thematically with the idea of the heroes gaining more power to defeat the impending doom. The meter adds to the suspense because the potential rewards increase substantially as it fills. It ensures that the game keeps you engaged, with your eyes glued to the screen from the moment you start spinning.Meet the High-Flying Heroes
Marvelosa
With her electric-green beams, Marvelosa is a sight for sore eyes. She comes packed with wild fighting skills that'll certainly pump up your rewards.
The Incredible Wonder
Faceless and towering, The Incredible Wonder doesn't mess around. His power is evident with his burning orange eyes.
Windstorm
Windstorm is your elemental superhero. She sweeps into action and clears the way, making your path to big winnings much smoother.
Game Specifications
Release Date: June 8, 2023
Game Type: Video Slot
Developer: Play'n GO
RTP: 96.4%
Volatility: High
In a nutshell, Ternion is an explosive experience that combines an exhilarating theme with high-stake gameplay mechanics. If you're looking for a slot that goes beyond the standard set-up and actually immerses you in a gripping story, then look no further. I'd recommend this game to anyone ready to take on a thrilling, high-volatility ride. Join the Ternion superheroes and take a spin for Victory City!