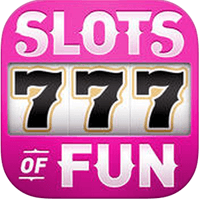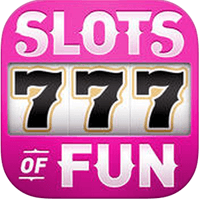 Slots of Fun Slot Machines Mobile App for Fun Gambling Games
Slots of Fun Slot Machines is a mobile game application for iPhones and iPads supported by iOS versions 6.0 and up. Created by real casino slots developers of Idle Games, Slots of Fun Slot Machines app delivers mobile play-for-fun gambling with a difference.
Presenting contents similar to those played via actual slot machines, this app features games with themes proven popular in real casino gaming floors. Slots with ancient Egyptian symbols, African wild life, classic fruit images, Norse gods, furry kittens, beach scenes, mythical dragons, lovable puppies, and spooky characters, are all illustrated with rich and excellent graphic presentations.
Slots of Fun game app can be downloaded free of charge at the iTunes App Store.
Slots of Fun Slot Machines App Features
This Slots of Fun mobile software offers several options on how to take part in the slot gaming exercises. First time app users can play as guest, which means they do not have to give personal information.
App users who want to make their virtual slot gaming, part of their social network activities, can connect the game to their Facebook or Google+ accounts. A FB connection poses as a better choice.  Idle Games offers additional bonuses and extra credits to players with FB-linked accounts.
As new app users, Slots of Fun Slot Machines players start by playing with the Jewel of the Nile game content. A 1,000-coin credit bestowed as Welcome Gift immediately appears in their playing account as available betting money. If their 1,000-coin bankroll gets depleted, or is running low, Slots of Fun app provides other coin resources.
The Daily Bonus for one supplies 400 coins everyday. A Facebook-linked account automatically receives a 1,000-coin login bonus. In addition, FB-connected players receive free mystery gifts. They also earn value multipliers that increase the number of coins received as Daily Bonus supply.
Milestone slot-playing achievements do not go unrewarded. Slots of Fun Slot Machines app awards virtual trophies that come with an equivalent coin prize. Achievements such as attaining specific number of Total Spins, All Spin Wins, and All Big Wins, award coin credits ranging from 500 coins to 10,000 coins.
Money as the saying goes"does not grow on trees," but when it comes to free virtual money, Slots of Fun Slot Machines app gives abundantly.
Slots of Fun Slot Machines Game Features
The Egyptian-themed Jewel of the Nile slots is the starter game. App users must complete four game levels to activate the next game. Albeit locked, this app provides snippets of info about the special features offered by a locked game, just to give players an idea.
Since the app presents its games as slot machines, each slot offering is independent from the other. App users can play with any activated game to their heart's content. After all, there are no missions or storyline quests to complete as conditions for unlocking a succeeding game.
To make the games truly enjoyable as a mobile gambling entertainment, all Slots of Fun Slot Machines contents have autoplay functionality.