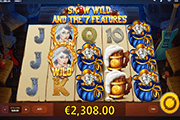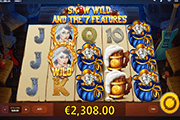 Snow Wild and the 7 Features : Definitely a Must-Play Online Video Slot
Snow Wild and the 7 Features is a Red Tiger online slot that is definitely worth one's while and real-money wagers. This 20-payline icon matching game randomly awards win-boosting features that can bring guaranteed wins or create changes to improve a win. Snow Wild as the name denotes is the wild card. Yet there is more to expect from her image. Snow Wild can also award 3 win-boosting features that take effect, one after another, on 3 consecutive spins.
Such an event occurs if the Lucky Wheel lands on Snow Wild's image. Actually, landing on a prize wedge of any of the 7 Male Characters, is still a boon. Every icon sets off its own brand of reel modification, all aimed at improving the outcome of the related spin. Although the game has no Free-Spins Bonus Round to offer, Lucky Wheel Spins occur fairly. Any event transpiring thereafter brings positive results without fail.


Snow Wild and the 7 Features Online Slot: Wild Symbol
Snow Wild and a straightforward Wild Emblem take reel positions that can create a winning arrangement. if any of those two wild cards align with alike images within a payline, their alignment can form a winning combination. The important thing is for the grouping to start from the leftmost position of a paying line, in order to garner the payout awarded by the principal symbol.
Should a payline fill with those two Wild Symbols, in numbers that complete a 3, 4, or 5-icon win, a much higher payout will be awarded. The longest of a winning Wild arrangement occurring per payline, correspondingly garners a cash prize valued at 50, 150 or 500 times the Line Bet.
Snow Wild and the 7 Features Online Slot: Lucky Wheel Bonuses
The Lucky Wheel activates when 3 Lucky Wheel totems land simultaneously on Reels 1, 3, and 5. It contains 8 prize wedges, one for Snow Wild and 7 for each of the Feature Bringers named Dozy, Boozy, Goldy, Sneaky, Tickly, Flash and Crazy.
When the Lucky Wheel prize indicator points at one of those images, the array of icons held by the reels will change via any of the following ways:
Snow Wild – is definitely the most rewarding Lucky Wheel Prize. Snow Wild activates three random Bonus Features by blowing three kisses directed at the Feature Bringers. Anyone who receives a kiss, will have a chance to use his skill at modifying a current arrangement. If a Character receives more than one kiss, then the related feature applies repeatedly and accordingly.
The awarded Bonus Features occur one after another, greatly and collectively improving the outcomes of three consecutive spins.
Boozy the heavy beer drinker places Wild Reels on the grid by opening one or more Beer Taps.
Dozy who may have had one drink too many is fast asleep. His heavy snoring emits several symbols around the grid. The floating images eventually land on random positions, and increase chances of hitting multiple payline wins.
Goldy gets the urge to pour buckets of Gold Coins into the reels. The sum of all gold coin values is for a player's taking as instant bonus wins.
Sneaky has a strong penchant for collecting reel symbols; cutting random panels of images out of the grid. Nonetheless, he compensates by replacing those he took out with high paying symbols guaranteed to produce a Big Win.
Tickly sneezes habitually, with a force strong enough to launch a respin of the reels.
Flashy the rock-star wannabe rocks the reels with his electric guitar with great intensity. So much so that bolts of electricity will hit the reels and cause existing symbols to disappear. Nevertheless, new symbols cascading from above will fill the spaces, and possibly create additional payline wins.
Crazy a befuddled Snow Wild and the 7 Features character, steals symbols simply because he does not like them. Still, he makes sure slot players will not be put at a disadvantage, by placing new ones in positions that will surely result to one or more wins.