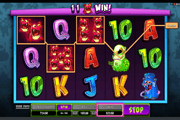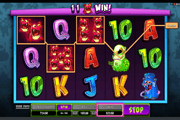 So Many Monsters : Another Microgaming Online Slot with Reward-Boosting Split Symbol Feature
So Many Monsters video slot by Microgaming is another five-reel, twenty-five fixed payline online offering with Split Symbol mechanism. One of three "So Many" titles released by Microgaming, So Many Monsters has the same game play and payout scheme as "So Much Candy" and "So Much Sushi" video slots.
So Many Monsters – So Many Identical Symbols in a Single Payline
Meet the Frogmosher (red-orange), the Eyez (yellow), the Squideye (green), the Baxter (purple) and the Ravtonstein (blue) monsters. Quaint creatures that seem to have evolved from some unusually colorful virus.

The gruesome but cheerful-looking monster characters tend to fill paylines with more than just five identical icons. That is because the reward-boosting Split Symbol mechanism creates multiple monster images in random numbers within a single frame. Identical monster images constituting a winning payline could split in two (2), three (3), four (4), and five (5) more like monster symbols.
The effect creates higher payouts since the pay-scheme is based on the resulting total number of monsters per payline. The highest possible number that could be created by the image-splitting occurrence is twenty-five (25).
The Split Symbol mechanism applies only to High Paying Monster Symbols that complete a win combination. Lesser-paying icons such as the conventional A, K, Q, J, and 10 remain unchanged, and therefore pay rewards only for three (3) up to five (5) alike symbols that make up a payline.
So Many Monsters Wild Symbol
The So Many Monsters (SMM) Logo serves as the special icon that can replace both high and low paying symbols when aiming to complete a pay pattern. However, the SMM Wild icon itself does not transform and is not capable of splitting into several Wild images.
As a Wild Symbol, the SMM Wild can form its own winning pay combo, to which three (3), four (4), or five (5) Wilds pay 5.50, 55.00, and 750.00 respectively.
The So Many Monsters Eye Scatter Symbol
Keep a watchful eye on the monstrous Eye Symbol because two (2) or more of those symbols, regardless of their location bestows Scatter Pays. Getting three (3) or more is even better because the occurrence initiates the "Many More Monsters" Bonus Game.
The "Many More Monsters" Bonus Game
This is actually a Free-Spins round, where So Many Monsters slot players will choose one High Paying Monster symbol to activate the bet-free spins. Each Monster Symbol represents the number of free spins available and the maximum bonus cash rewards that could be won for every payline. In addition, the Monster Symbol chosen will be the featured special High-Paying Symbol during the bonus round.
The Frogmosher offers eight (8) free spins, which is the lowest compared to the bonus spins offered by the other Monster Symbols. Yet the crimson monster has the highest maximum win of 64,000 per payline. The blue Ravtonstein offers 16 free spins but has the least maximum amount of possible extra wins at 32,000 per payline.