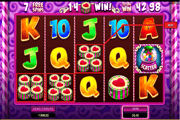 So Much Candy Video Slot Features Split Symbols that Create Greater and Higher Wins
So Much Candy is a Microgaming video slot built with a Split Symbol game mechanism designed to bring greater and higher monetary returns. Presented with a colorful patchwork of delectable candy varieties as reel icons, this five-reel, 25 fixed-payline slot also has an assortment of reward boosters to offer slot players.
So Much Candy – High Candy Symbols and Image-Splitting Occurrences
The Rock Candy, the Strawberry Twirl, the Apple Wheel, the Grape Crunch, and the Lemon Drop are the so-called High Symbols of the game. Each High Symbol Candy variety has the capability to split images in every frame. Moreover, the image-splitting feature is active in both the base game and in the Bonus Game.
Splitting actions happen when three or more of the same candy variety occurs as a payline win. As a result, there will be more than three, four, or five identical icon-count in single payline win. The occurrence could create at least six (6) and up to a maximum twenty-five (25) identical High Symbols in each payline win. The Rock Candy has the highest pay equivalent at 640.00 for every 25 Candy Symbols.
So Much Candy Logo Wild Symbol
The So Much Candy Logo is the Wild Symbol that executes substitution actions for regular icons, including the High Symbols. In addition, the So Much Candy Logo can form winning combinations by itself. That is when three or more of those Wilds appear consecutively in a payline. A Wild Symbol payline win pays from 5.50, 55.00 and up to 750.00 in equivalent cash prize.
The payout, which a player could win from a single spin outcome, could be greater if the So Much Candy Wild also helped complete regular payline combinations. In addition to the Wild Symbol payline reward, the total payout value will increase in accordance with the High Symbol cash reward spawned by the Split Symbol mechanism.
The Gumball Machine Scatter and the "Much More Candy" Bonus Game
The Gumball Machine Scatter Symbol awards Scatter Pays whenever two or more of such icons appear in any row or column across the screen.
A more gratifying occurrence is the appearance of three or more Gumball Machine symbols. The occurrence initiates The "Much More Candy" Bonus Game. Once it does, So Much Candy players are presented with five (5) Candy Symbols to choose as special High Symbol for the Bonus Game free spins.
Each Candy Variety also represents the number of Free Spin rewards, as well as the highest possible coin prizes that could be won from each set of free games.
The Rock Candy for one, awards the least number of free spins at eight (8) bet-free games. Yet technically, it has the highest value multiplier because it offers the highest possible payout win of 64,000.
A player can achieve this by hitting five (5) Rock Candy symbols that would split into a total of 25 symbols with an equivalent pay of 640.00. Multiplying 640.00 by the 10-coin bet placed on the payline and a 10x value multiplier will equate to 64,000.00 as equivalent cash reward.
So Much Candy Awesome Payouts!
So Much Candy video slot by Microgaming is indeed a good choice as the Split Symbol mechanism really produces greater payouts. The game play tends to be confusing at first, but everything eventually sinks in through frequent play.