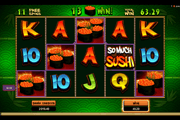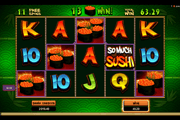 So Much Sushi : A Mouth Watering Edition of Microgaming's So Many Slot Series
So Much Sushi 5-reel, 25-payline slot takes Microgaming's proprietary Split Symbol mechanism to the limit by using an assortment of mouth-watering sushi as High Paying reel elements. The image-splitting occurrence is already a game attraction by itself. Add to that attribute the multiple presentations of appetizing sushi varieties. It brings not only a reward-giving significance but also a visually gratifying, virtual sushi-binge experience.

So Much Sushi Split Symbol Occurrences
The Split Symbol mechanism occurs only if a High Paying Sushi symbol completes a pattern. In such instances, players witness a single sushi icon turning randomly into a set of two (2) up to five (5) identical symbols within a single frame. A five-of-a-kind high symbol outcome has the potential to evolve into a 25-of-a-kind win. That is, if all five (5) sushi icons split into five more identical symbols in each frame. The pay equivalent is terrific, with the "California Maki" sushi symbol as the highest paying kind with 1,600 coin credits.
In a "So Many" slot game, payouts are based on the number of High Paying Sushi symbols comprising the payline win.
So Much Sushi Wild Symbols
The So Much Sushi (SMS) Logo is the Wild Symbol that could take the place of other regular icons including High Paying Sushi icons. SMS Wild substitutions therefore help create not only more win patterns. It could also trigger the creation of multiple High Paying Sushi symbols.
The SMS Logo also completes its own winning combination. Five (5) Wild logos, being the most number of such symbols completing a Wild matched combination, pay as many as 750 in coin credits.
So Much Sushi Shōyu Scatter Symbol
The bottle of Japanese soy sauce or "Shōyu" is the Scatter Symbol that bestows Scatter Pays whenever two (2) or more emerge across the reels in any row or column. Five (5) "Shōyu" Scatters bring 375 coin credits as extra pay.
Three (3) or more "Shōyu" Scatters showing up as spin outcomes also initiate the activation of the "Much More Sushi" Free-Spins Round.
So Much Sushi "Much More Sushi" Free-Spins Binge
Once the Free-Spins bout is activated, a player chooses the number of bet-free spins to play with from a five-item Sushi Menu.
The "California Maki" offers only eight (8) bonus spins but offers the highest possible maximum rewards of 64,000 per payline. Followed by the "Ebi (Shrimp)" variety with ten (10) free spins and max win of 56,000 per payline. Third in the list is the "Gunkan (Salmon Roe)" sushi, offering twelve (12) free spins and up to 48,000 coin credits per payline. The second to the last sushi choice is the "Toro (Patty Tuna)" with 14 bet free spins and 40,000 max win per payline. The fifth and the last, which offers the most number of free spins at 16 (sixteen) but with the least amount of max win per payline is the savory "Gunkan Tuna and Cucumber" sushi variety.
Players can take their rewarding pick and at the same time feast with their eyes on their choice of delectable virtual sushi treat.