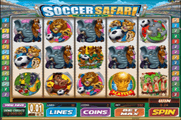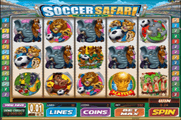 Soccer Safari Free Slots Review
Calling all sports fans! There is finally a slots game out there that is all about what you're interested in! This new game, Soccer Safari, features scenes from the world's most popular sport, soccer. Of course, since it is a slots game, there is a twist. You won't be seeing famous players like David Beckham or Pele on the screen. Instead, the players are, well, animals. African animals, to be exact.
Elephants, zebras, lions and leopards are all featured in various soccer scenarios. They all aren't just players (although there are plenty of those) but referees, announcers, and of course, fans as well. You'll find yourself almost always on the winning team with this game, and will hopefully appreciate the way Microgaming decided to portray the animals as fierce rather than cute and cuddly. It makes it seem more like a game for adults rather than one that appeals to children.
In order to claim a payout, players will have to form a winning combo. They can do that by getting at least 3 matching icons from the left to the right. They will get to claim a payout as listed at the paytable of the game. This paytable can be opened anytime during the game play as they click on the Vie Pays button. They will see all of the different payouts that the symbols can give, as well as the special features and bonus icons that the game has like the wild icon, the scatter and the free spins round.

There are 5 reels, just enough to make it interesting, but only 9 paylines, which is way easier for me to understand than those that have 12 or more. There's also plenty of bonus games, scatter symbols, wilds and free spins too, making it seem like you win just about every spin! The only thing this game does not have is a progressive jackpot, but you can still win 40,000 coins in the standard jackpot it has. Who needs a progressive one, when you already have such a good chance of winning with the one that's already there? One word for you: GOOOOOOAAALLLL!!!
So get ready to enjoy an adventure of a lifetime that is powered by Microgaming, that takes you to the deep jungle of Africa for a fun ride, that is full of rewards, great visuals and astonishing sounds that result in an immersive ride like none other.