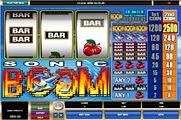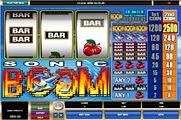 Sonic Boom is yet another traditional slot machine from the varied slot gaming portfolio of Microgaming. This game has a pretty unique theme as it is themed around an airplane that travels faster than the speed of sound, which cause a Sonic Boom, this is why the game has that name. This plane can be found under the 3 reels and the one middle payline of the game. On the right side, players can find the paytable of the game. This paytable shows players the possible payable combos that they can achieve in the game and the amount of the rewards. The paytable has 2 columns, one column for each betting level since players can place from one or two coins. Speaking of wagers, players can place their desired bets at the bottom. Players will choose the number of coins they want to place (1-2) and the value of the coins used to place the wager. The available coin sizes are 0.05, 0.10, 0.20, 0.25, 0.50, 1, 2, 5, 10, 20 and 25.
If you are not yet sure if you want to play the game for real cash, you can get to try it out here for fun with demo credits as much as you want. This will give you an idea on what you can expect of the game and see what it has to offer.

The game has a special symbol, which is the Sonic Boom Plane. This symbol is the wild card of the game that has the ability to substitute for any of the other symbols on the reels and lines of the game. This is why whenever players manage to land a wild icon on the game, they know that they are in for a treat as they will have a higher chance at triggering a payout with the help of these wilds. This wild icon is not only going to stand in for other icons, as this wild icon can also act as a multiplier. It goes like this, if only one wild appears, the winnings will be doubled for the players, and if 2 wilds appear, the winnings will be multiplied by a 4x multiplier. If three wilds appear on the line, this will trigger the jackpot of the game, which is equal 1200 and 1500, depending on the betting level. This is why players are always encouraged to place the biggest wager of 2 coins with the biggest coin value so they can earn back great prizes and have a change at triggering the 1500 coins jackpot prize.