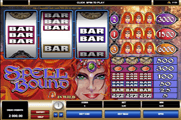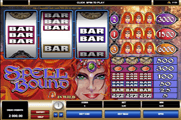 Spell Bound Free Slots Review
Spell Bound, the newest game from Microgaming, is a very simply made 3 reel slot game. While the reels feature mainly BAR symbols and the occasional owl, what catches your eye most about this game is the scarlet haired woman with enchanting emerald eyes near the bottom of the screen. You might even say that you are spellbound by her beauty! She is also the symbol for the only special feature in this slot; the Wild symbol.
This three-reel, three payline game is one that you may find yourself playing when you're down on your luck and looking to get back to the top. Since it doesn't cost much to play, you can get many spins with a small amount in your account. Of course, there are a couple of downsides. You won't win any type of huge jackpot on this game, but the small amounts can and will add up to big wins. You may also not pay as strict attention to your spins as you play, since they go by so quickly.
Spell Bound is a great slot to play, especially if you are just becoming familiar with them. Five reel slots have dominated the online casino scene in recent years, but we are seeing a comeback with the three reel slots thanks to great companies like MicroGaming. Spell Bound is sure to become one of your favorites because it is so fast and easy to play, and you can still win big money without anything more than a wild symbol! If you want proof of that, you can easily take a look at the paytable that is located on the right side of the reels during the game play. It will show you all of the different symbols that are going to appear on the reels and lines of the game, and the payout you can earn when you match three of them on any of the game's 5 lines. the jackpot payout of the game is equal 6000 coins, which is triggered when players get three of the red headed witch symbols on the same line, after placing the maximum bet of 3 coins.
If you are intrigued by the magical theme of the game, and the prospects of great winnings, then try the slot machine here with demo credits, and understand it before placing real money wagers on the slot at Microgaming powered casinos.