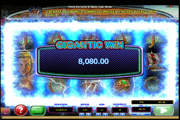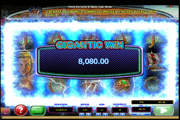 Spell of Odin – A Viking-Themed Online Slot with Bonus Game Win Multipliers
Spell of Odin is a 5-reel, Viking-themed online slot with 25 paylines. Although deployed to online casinos via the Microgaming Quickfire platform, this real money game was developed by 2×2 Gaming. There is a lot of win-opportunities to look forward to in playing this game.
Spell of Odin Full-Reel Symbols
The images of three (3) buxom Viking Shield Maidens pose as high-paying icons and appear as 2-tile high reel symbols. The game's image of Odin, which serves as the Wild Symbol may come around as a 3-tile high Wild that transforms another reel into another Full-Reel Odin Wild.

Odin Wild Symbol
– Ordinarily, the Odin icon emerges as a regular-sized image. Occasionally, it appears as a Full-Reel Odin Wild Symbol in Reel 3. When it does, it replicates itself into another Full-Reel Wild in another reel. It may create a Full-Reel Wild in Reel 1, which is a significant occurrence for Spell of Odin slot players. After all, a Stack of Wild icons in Reel 1 and in Reel 3, easily creates multiple and possibly, high-paying same symbol combinations of up to three (3) matched images at the least.
More so in the Spell of Odin Free-Spins Bonus Game; players have the option to play the bonus round with a Wild Win 2x Multiplier.
Spell of Odin Online Slot Free-Spins Bonus Game
A set of three (3) Shield and Sword Bonus Symbols that lands on any column or row, activates the launch of twelve (12) Free-Spins. Prior to the bonus game's commencement, players are presented with three (3) Shield images from which to select any of the following Bonus Features:
Option 1: 3x Win Multiplier – All payline wins, whether completed naturally or with the help of the Odin Wild, awards payouts at 3x their corresponding win value.
Option 2: Extra Scatter and Wild Symbols – The 12 free-spins will produce Scatter and Wild Symbols more frequently and abundantly. The addition of those bonus features denotes it will be easier for players to re-trigger another set of 12 bet-free spins. Moreover, the initial round plus the possible extension of the free games may bring around more payline wins at no cost, with the help of Extra Regular-Sized and Full-Reel Odin Wilds.
Option 3: 2x Wild-Win Multiplier– Odin Wild-Symbols completing matched payline combinations award twice the value of the corresponding payout. In the event that two (2) Odin Wild Symbols completed a payline match, a 4x factor (2 x Win Multiplier Factor multiplied by two (2) Odin Wild Symbols) will multiply the payout for the highest win-combination in a payline.
Spell of Odin Scatter Bonus Reward
Aside from triggering and re-triggering a set of free-spins bonus game, a trio of Shield and Sword Scatter Symbols awards instant bonus pay equivalent to 1x the Total Bet staked on the triggering spin.
Spell of Odin Betting Options
The Total Bet staked per spin constitutes the number of coins staked per payline, the number of paylines activated and the coin value used as wager. A player has the option to activate one or more, or all 25 paylines with every spin. They can also choose to place a single coin or place more, up to a maximum of 20 coins on each payline.
Using any of the coin values ranging from 0.01 to 0.20, Spell of Odin slot players can place wagers as low as 0.01 per spin (0.01 x 1 payline x 1 coin per payline.) The highest possible Total Bet or Max Bet per spin therefore, is 100.00 (0.20 x 25 paylines multiplied by 20 coins per payline.)