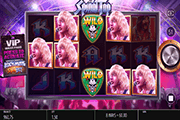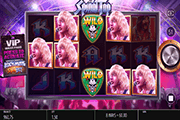 Spinal Tap Online Slot: Rock and Spin with 4 Random Base Game Modifiers and 7 Types of Free-Spins
Spinal Tap online slot takes on a heavy metal rock theme; showcasing the fictional British rock band featured in a 1984 American film satire, "This is Spinal Tap." In a standard 3×5 grid, there are 243 ways by which alike images or symbols, may land as winning combinations.
To give the game a promising touch, Blueprint Gaming added a random base game feature called the "Rock Mode." When triggered via any spin, it applies one (1) of 4 win-boosting Reel Modifiers to a forthcoming spin. Moreover, the "Rock Mode" unlocks two (2) additional reels; increasing the number of win-ways to 2,187 in all.
The "Rock Mode" is only the "tip of the iceberg" so to speak. The main Bonus Feature has more to offer with its array of seven (7) free games. Any may be triggered via the Bonus Picker segment.

Spinal Tap Online Slot: Rock Mode Reel Modifiers
Once the Rock Mode is on, a huge Vinyl Record posing as Bonus Wheel emerges on screen. The inner ring of the Vinyl Record contains a range of numbers that spins in conjunction with the four (4) Reel Modifiers in the outer ring. The outcomes of the inner and outer rings determine the applicable Reel Modifier and the number by which they will transpire as bonus feature.
All spins occurring to run the awarded Reel Modifier will transpire in an Expanded 3×7 Grid. The types of Reel Modifiers in store are as follows:
Heavy Duty Wilds – Based on the Inner Circle Number landing simultaneously with this modifier, several reels will be converted into Wild Reels.
Wild Sparks – Several Wild Symbols take random positions across the expanded Spinal Tap grid. The Inner Circle Number landing in conjunction with this modifier determines the number of Wild Symbols that will appear.
Rock and Roll Spins pertain to a number of Respins that will hold all winning symbols in place during the brief free-bout.
Bonus Odyssey – This Reel modifier takes place behind the scene; filling up all reels with additional Bonus Symbols in order to heighten chances of activating the Bonus Picker Panel. The Inner Circle Number landing in conjunction with this modifier, dictates the number of Bonus Symbols enriching each reel of the 3×7 grid.
The Spinal Tap Online Slot Bonus Picker Segment
Three or more Bonus Symbols unlock this special game stage. Twenty (20) Gold Records come into view as Pick Choices, alongside a Bonus Game Menu-cum-Pick Meter. The first Bonus Game that fills up with icons will unlock the related feature
A complete roster of (7) Bonus Games includes the following:
Double Platinum Bonus – awards Multiplier Values that increase in every Wheel Level. One of 3 Band Members may award an Arrow Symbol that may allow a player's instant advancement to the next level.
Don't Fret It Bonus is a feature that awards color-coded Values. Players select a Box that reveals an Arrow with a color corresponding to the Bonus Value: Blue, Red, Blue-Gold, or Red-Gold. The Arrow revealed by the Box selected, determines the Bonus Reward.
Record Deal Bonus is also a Pick Game but works toward eliminating the array of prizes in store. Aside from cash rewards, the array includes the three (3) types of Free-Spins Bonus and the World Tour Bonus Feature. After each round of Record-picking activity, players will have the option to accept a Cash Reward; or reject the offer in exchange for a chance to vie for a Free-Spins Round or the World Tour Bonus.
The World Tour Bonus is a trail game that simply awards cash prizes on every spot to which a player advances. Occurring in 3 stages: Europe, Japan and USA, the goal is to advance to higher game stages, in order to collect bigger cash bonuses.
Bonus Picker Free-Spins Bonuses
Stairway to Hell Free-Spins is a Bonus Round comprising 11 Free-Spins in which a special Bonue Guitar Wild, Skull Symbols and AMP icons appear. Skull Symbols coming into view, award a Win-Multiplier anywhere between x2 and x11. The AMP on the other hand awards an Extra Free-Spin.
Encore Free-Spins represent 11 free rolls. Here, each emerging Wild is a Collectable item. They will be banked as embellishments to a final Encore Spin awarded upon completion of the 11 bonus turns. The 12th and final Encore Spin will run on an expanded 3×7 grid. All Wilds collected will then return as embellishments, taking up random reel positions in the expanded grid.
Stonehenge Free-Spins are 11 free turns that will run on an expanded 3×7 grid throughout the bonus round. At the same time, the expanded grid comes with a Stonehenge-shaped Wild Zone that locks-in all Wild Symbols emerging in that particular area. All locked Wilds remain in place, until completion of the bonus bout.
In the event Wild Symbols get to cover the entire Wild Zone, another set of 11 Free-Spins activate.