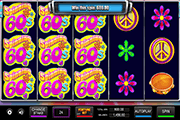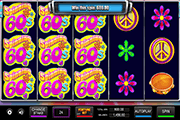 Spinning 60s Online Slot: Stacked Mystery Symbols Bring Big Wins!
Spinning 60s online slot is a throwback to a "cultural decade" popularly known as the Swinging Sixties. Content developer Inspired Games uses a collection of symbols and objects conceptualised by the "hippie" youth movement during the mid-60s. Psychedelic Hearts, Peace Symbols, Peace (Victory) Signs, Kombi Vans, Tambourines and an array of Flower Power Designs, land as stacked elements on reels. The 3×5 grid contains 30 paying lines in which alike images may organise as winning combos.
Online casino players coming from the 60s era will have a trip down memory lane. On any spin, a minimum of three (3) reels may return fully, or partially covered by Psychedelic Art Images to hide a single-type of stacked elements. Players will likely be awed by the number of one-of-a-kind combinations revealed by the Stacked Mystery Symbols.



Hope to land two or more of the Spinning 60s Logos, as the icon has the highest Paytable Values. A pair, or a set of 3, 4 or 5 Spinning 60s icons, correspondingly garners a payout equal to 2x, 25x, 100x or 1000x the Line Bet. Matched elements though must align starting from the leftmost payline position, in order to be evaluated as a payline win.
This game though does not have a Wild Symbol to offer as joker card. In its stead, Stacked Mystery Symbols occur as Reel Modifiers. In a free round, a randomly selected icon will constantly emerge in more than one reel, after each bonus spin.
Spinning 60s Online Slot: Mystery Symbols
A base or bonus game spin may return with at least three (3) Reels completely, or partially covered with Psychedelic Art images. The Psychedelic Reels will then reveal one-of-a-kind symbols that will likely form multiple winning combis.
Spinning 60s Online Slot: Free-Spins Bonus Round
The Bonus Game Symbol that can trigger the free games emerges only in Reels 1, 3 and 5. A single spin that lands with a Bonus Symbol in all three (3) reels, sets off the Free-Spins Bonus Round.
The feature commences with a presentation of three (3) Question Mark icons as Pick Choices. Bonus Game players select one (1) as means of designating an element that will constantly emerge after each bonus spin.
Once a symbol has been selected, the free round carries on by rolling out ten (10) Free-Spins.
Spinning 60s Online Slot: Fortune Bet Playing Option
To heighten chances of activating the free games, players may opt to play with Fortune Bet stakes. At an additional cost pegged at 50 percent (50%) of a preferred standard bet, the size of the Bonus Game Symbol will appear as 2-tile high icons.