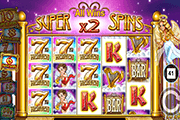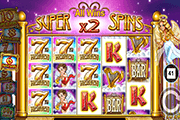 Stairway to Heaven : Multi-Level Online Slot with Progressive Multiplier plus Bonus Wheel Spins
Stairway to Heaven online slot by OpenBet may seem ordinary if to be judged on graphics alone. Yet this game has a lot of win and pay boosting elements to offer. Here, staking higher bets automatically raises the Game Level and chances of entering the Super Spin Levels.
Stairway to Heaven : Game Levels, Upgrades and Super Spins Features
There are nine (9) Stairway to Heaven Game levels in all. The first four (4) stages can be activated by placing a Bet that falls within the range required. The rest are Super Spin Levels comprising sets of bet-free games enhanced with a Progressive Multiplier.


A minimum 0.01 Line Bet or Total Bet of 0.20 activates Level 1. Total Bets of 0.50 or 1.00 sets off Levels 2 and 3,respectively. Total Bets ranging from 2.00 to 500.00 brings players directly to Game Level 4.
The difference between each stage is the Return to Player Percentage or RTP. Level 1 of course has the least at 86.17%, while Level 4 has the highest RTP value of 95.15%. RTP being the amount of winnings that a player's spinning session may yield, over a period of time.
Certain elements such as the Stairway to Heaven icon and a mini-Key overlay give players quick access to the next level.
Stairway to Heaven Upgrade Symbol -The Game Logo, when appearing as outcome of Reel 5, will advance the game to the next higher stage. If the Upgrade Symbol occurs in levels 1, 2, or 3, it grants one (1) Free-Spin played on the next stage. After which, the play returns to the original game level.
Yet the advancement may cover several levels; even up to the Super Spin Levels. Such an occurrence is made possible by a Key Symbol, if it appears in conjunction with the Stairway to Heaven Logo.
Key Symbol Mini-Overlay – This reel element arbitrarily appears as a superimposed image on a random icon. One Key Symbol is equivalent to one level progression. More than one in view therefore and appearing concurrently with a Stairway to Heaven Logo can advance the spinning session to a much higher stage, including the Super Spin Levels.
Super Spin Levels are technically, free rounds awarding 5, 6, 7, 8 or 10 bet-free turns. Those levels feature a Multiplier Upgrade Symbol. The icon increases a start-up 2x Win-Multiplier by one, every time it emerges as outcome of a Super Spin.
Other possible ways of attaining game upgrades is through the "Cloud Bonus" or via the "Devil's Wheel."
Stairway to Heaven Online Slot: Cloud Bonus Pick Me Game
This segment is a random base game feature that activates when three (3) Cloud puffs appear as PICK ME Choices. The array of Mystery Prizes that a Cloud Pick may reveal includes:
• Instant wins raised at a minimum of 25x or higher; or at a minimum of 10x or higher
• Guaranteed 5-of-a-kind Payline Win
• Guaranteed Multiple Payline Wins
• A Stairway to Heaven Upgrade Symbol
• Activation of the Devil's Wheel
Stairway to Heaven Devil's Wheel Feature
This feature comprises five Bonus Wheels, each representing a Bonus Wheel Prize Level. A single spin of the wheel may award a spin playable on the next Bonus Wheel. Other prizes include Total Bet Multiplier Values and entry to the "Devil of a Deal Bonus Feature. However, the Devil's Wheel also includes a no-win segment.
Devil of a Deal is a mini bonus game in which players simply eliminate boxes that contain Mystery Bonus Prizes. The process may continue until only two unknown prizes remain as final choices. At some point though, players will be offered a specific Bonus Prize and end the feature; or reject the offer and continue eliminating Mystery Prizes until only two boxes remain as choices.