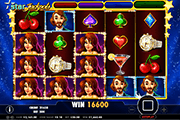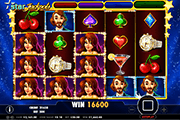 Star Jackpots Online Slot : Base and Bonus Grids Produce Massive Girl-Wilds
Star Jackpots online slot by Pragmatic Play is an online casino gaming content with 4 Jackpot Prizes to offer. Actually, players could rake in winnings in epic proportions via matched arrangements occurring in any of 50 paylines. The Girl-Wild Symbol, configured as a Stack of Wilds, may appear in part or in its entirety as full-reel Wild image. The Stacked Wilds have a tendency to rain down and land on multiple positions via a single spin.
Initially released as a Mr Smith Online Casino exclusive, this Star Jackpots slot carries Pragmatic Play's Progressive Jackpot offerings. When the special Jackpot Mini Game activates, participating players are bound to win one of four (4) Major Prizes. Moreover, one of three Minor Prizes may be awarded during base plays, which include a Free-Spins Round, a High Award or a Small Award. The Free-Spins Round plays on a Bonus Grid enhanced either by Raining Wilds or Sticky Wilds. The High and Low Awards on the other hand, are instant cash prizes.

Star Jackpots Online Slot: Wild Symbol
The image of the Girl represents the Wild Symbol. When aligned with one-of-a-kind images in the same payline, a Wild can lengthen or complete a winning arrangement. The Paytable Values of the winning symbol, will then serve as bases for payouts.
Yet when the Girl-Wild itself lands as matched contents of a paying line, the longest arrangement will bring remarkable payouts. Three, four, or five Girl Wilds aligning as payline win commands a top prize equivalent to 20x, 100x, or 400x the value of the Line Bet.
Such an achievement is not farfetched, whether during base or free games. Wild Symbols tend to occur as multiple outcomes, giving players lots of opportunities for striking any type of Wild Wins.
Star jackpots Online Slot: Bonus Features
Await a spin outcome with Star Logo icons anywhere in Reels 1, 3, and 5. Such an event takes players to the Bonus Feature Panel that presents three (3) possible bonus rewards. Choosing one of three (3) Star Symbols will reveal any of the following:
• Free-Spins Bonus Round that comes with either Raining Wilds or Sticky Wilds
• High Award, which is an outright Bonus Prize with a value pegged anywhere between 10x and 500x the current total bet.
• Small Award is also an instant win, but equal to 1x the current Total Bet only.
Star Jackpots Online Slot: Free-Spins Bonus Round
This Bonus Feature activates, only if won as a Star Pick. The number of spins awarded, depends on the type of special Wild Attribute randomly chosen as Bonus Reward, such as:
Raining Wilds – that transpire during a round of 10 Free-Spins. Multiple Girl-Wild Symbols pour down the grid on every bonus spin. The reel positions taken by every fresh batch of Wilds are random, while the number of Wild Add-ons vary on each turn.
Sticky Wilds occur during a set of 6 Free-Spins. Every spin will produce one or more Wild Symbols that lock in place through the end of the bonus round.
In any type of Free-Spins Round, the Star Bonus Symbol will not appear; eliminating any possibility of instantly re-activating the Bonus Feature Panel.
Star Jackpots Online Slot: Jackpot Mini Game
The Jackpot Game initializes after hitting 3 jackpot icons via any Base Game Spin. An array of Star Symbols will then appear as Pick Choices. Star icons selected, reveal different Jackpot Labels. Revealing 3-of-a-kind, will award the Progressive Jackpot corresponding to the matched Jackpot Labels.