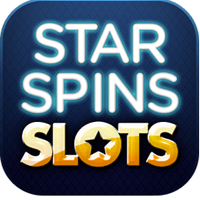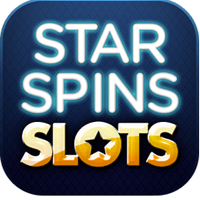 Star Spins Slots App for Authentic Vegas-Style Games by Gamesys
Star Spins Slots app contains a collection of authentic Vegas-style slot games developed by real casino games developer Gamesys. It provides play-for-practice slots the way they are played at casinos, as it comes complete with win boosters, jackpots, and loyalty rewards.
Created especially for users of iPhones and iPads supported by iOS 6.0, this Gamesys app is free to download at the iTunes App Store.
Star Spins Slots App Features
Users of this Gamesys multi-slots app can play as a guest, with an option to link their device to their Facebook or email account. That way they can have additional storage for their game progress, as well as have the ability to access the Star Spins Slots (SSS) games via a web browser using their desktop or other devices. As a special amenity, this app awards additional coins to FB-connected players for every FB friend who plays with Star Spins Slots games.
This app immediately credits a new user's playing account with a 50,000-coin Welcome Bonus. This means they can instantly play with the SSS starter game. Playing though follows the leveling up system ordinarily used in social casino gaming.
Yet unlike other social slots app, each game is already a progression of game levels. Once a SSS player gains enough Experience Points (XPs) in Level 1, he or she will be able to unlock the second slot game as a Level 2 player. A level-up bonus awaits players for unlocking the next slot game.
However, Star Spins Slots app does not have Instant-Win Spin Wheel or Mini Bonus Games that furnish players with guaranteed coin prizes. Nonetheless it provides additional free coins as Daily Bonus (200 coins), every-four-hours bonus (750-coins) and leveling up bonus. Players who need more coins but cannot wait for the next bonus supply can simply buy them from the SSS In-App Store using real money.
Purchasing coins is one way of leveling up for the Stars Spins Slots VIP Rewards Program. New device users start out as Blue Level members and automatically earn 20 coins for playing daily. To collect more and to increase the number of coins purchased from the in-app store, or collected as regular SSS coin supplies, players must aim to elevate their status as a SSS VIP member.
Stars Spins Slots Game Features
Star Spins Slots is not only useful for slot-playing practice but for practising how to play responsibly as well. If one is not too keen on buying coins with real money, a player can simply optimise the use of their playing credits.
Stars Spins Slots games have betting options that remain adjustable and affordable. This is another plus point when compared to other slots apps that increase the betting requirements in every level. Moreover, the succeeding games have special win-boosting features that make it possible for players to win more frequently even with moderate bets.
The "Wild Prairie" starter game has basic symbol-matching mechanics as game play. The second game, the "Reels of Rameses" has a Cascading Reels feature and a full-reel Wild Symbol. The "Cascading Reel" feature automatically triggers a re-spin every time a payline win is achieved. The full-reel Wild on the other hand, creates greater potentials for completing multiple payline wins with just a single spin.
In knowing that the next games have other special win-boosting features, Star Spins Slots app users are likely motivated to play and spin more, in order to level up and unlock more games.