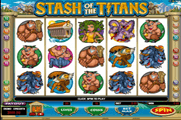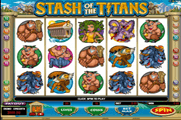 The Stash of the Titans slot game approaches the Greek mythology theme in a cartoonish way as players will see cartoonish symbols that are inspired by the famous characters of the Greek Mythology and gods. Therefore, players can expect to go on one heck of a Greek Mythology ride that will have players rub shoulders with the gods and titans of this ancient civilization. That is not all, as players will try to locate the stash of the titans, so they can claim their own share of the fortunes of the gods. They will be able to do that through the line pays of the game, as the game has a total of twenty lines with generous symbols. There are also other ways to claim the stash of the titans, which is the special icons, fortunes and more.
For example, on the reels and lines of the game, players will see symbols representing Medusa, the titan that turned men who looked at her into statues of stone. Other symbols include the flying horse with an eagle head, a Greek Temple and other symbols. All of these symbols appear on the game's 5 reels and  20 lines.

Players can choose the bets that they want to place by going through the different betting options that the game offers. These options can be found on the bottom of the game's screen. The options include choosing the value of the coins used, the number of the lines activated and the number of coins that are placed on every activated payline. Players can check the winning combos that they can make them earn a payout as well as the respective reward by viewing the paytable. They can do that by clicking on View Pays. It will also show players the special and bonus symbols that the game has to offer. The game also has a jackpot that can pay out a total of 50,000 coins. The game has other bonus features like the wild symbol that helps players increase their winning chances by substituting for other symbols on the game's reels and lines.
If you are looking forward to enjoying a Greek Mythology themed gaming adventure, then this is the slot machine that you should be playing. Try it out right here for fun and for free with an endless amount of demo credits to give the game a test drive before playing it for real at any of the online casinos that host it.