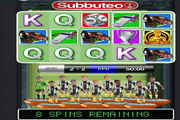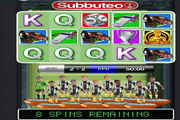 Subbuteo Online Slot: Collect Payline Wins, Earn Random Footy Bonuses, and Complete a Football Team to Enter the Free Round
Subbuteo online slot is a gaming content developed by BetDigital-Scientific Games under the Hasbro brand. The game play still maintains reel-spinning actions; delivering payouts on combos of alike images aligning in any of 20-paylines. The main goal is to complete the 11-man team lined up in front of the 3×5 grid.
Team Badges appearing as attachment to any symbol, activate football players. Once the entire line up attains completion, the event qualifies a player to enter a Free-Spins Bonus Round. If the deficit is for three or less football players, a Buy Bonus Feature becomes available.
In the meantime, a number of random base game features transpire to improve chances of striking wins. Random win-boosting features also occur during free rounds. Yet the bonus aspect that can bring exciting extra prizes, is the Subbuteo match. Bonus game players earn extras if their team scores a goal in the Subbuteo football simulation. More so, if their team wins the simulated football match.
A Wild Symbol represented by the Football Stadium image, appears in reels from time to time. Aside from aiding players in collecting payline payouts, Wild Symbols can also organise as winning combinations. A set of 3, 4 or 5 Stadium Wilds, aligning appropriately as payline matches, awards 50, 250 or 2000 win-credits, respectively.
The most exciting combinations to complete as payline wins are those composed by 3, 4 or 5 Golden Super Sub icons. The longest Super Sub winning arrangement occuring as payline win, rewards players with 100, 500, or 5000 win-credits.


Subbuteo Online Slot: Base Game Bonus Features
Occasionally, during an ongoing spin, one of three bonus events transpires to award the following:
Extra Player
This base game bonus instantly adds one (1) Extra Player to fill the line-up, whilst throwing in a cash prize as additional reward.
New Contract
A player's chosen team signs a new contract, for which he or she will receive an instant cash bonus.
Manager of the Month
Four (4) Team Managers will be presented as nominees. Qualifying players select a Manager in order to reveal and claim any of the following Mystery Prizes:
Extra Player that will increase a player's current collection of team players, but does not come with a cash reward.
Kick Off – A player's current collection of football athletes will be completed, as this feature awards the corresponding number of players needed to fill the set. That way, the Free-Spins with Subbuteo Simulation kicks off immediately.
Cash Bonus – Similar to the New Contract Bonus, one of the Managers nominated to receive recognition, simply rewards players with a random cash prize.
Win Spin – A Manager holding this Mystery Prize awards one (1) free-spin that is certain to yield a winning outcome.
Subbuteo Online Slot : Free Games Win-Boosting Features
In conjunction with the Subbuteo game simulation running concurrently with the free-spins round, football developments transpire to improve reel outcomes. The following events randomly trigger to boost chances of collecting big bonus payouts:
Free Kick, which actually, is a Respin of the reels that may or may not yield payline wins.
Penalty – Presents a brief interactive moment of playing against the goalkeeper. Aim to win, as scoring a goal draws an additional bonus prize.
Goal – An instance in the 90-minute Subbuteo match in which a player's team scores a Goal and wins an extra bonus.
Red Card – The Referee slaps a Red Card against the opponent, for which players benefit. A low-win symbol will be banned from appearing as potential outcome of a free-spin throughout the remaining bonus period.
Substitution – A call for substitution is up, but is actually a symbol upgrade feature. The action entails the removal of a particular low-win symbol from the reels, as they will be replaced by high-paying Super Sub icons.
Action Replay – A final free-spin that yielded winning results replays instantly. Even the reward will be duplicated, as the replayed winnings will be awarded as extra bonus.
Subbuteo Online Slot: Free Games
Completing the 11-man team activates a round of 18 free games and a concurrent Subbuteo football match. If a slot player's team scores, a cash bonus equal to 5x the Total Bet will be awarded.
If the team wins the match, an additional Match Win Bonus will be added to the aggregate Free-Spins winnings. In case of a draw, the game goes into overtime by adding 6 extra free-spins. Final results of the match will be decided by way of penalties.