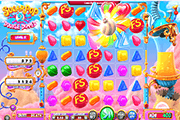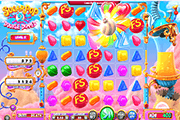 Sugar Pop 2 Online Slot: Free-Spins, Plus New Win-Boosting Special Candies
Sugar Pop 2 Double Dipped brings a fresh edition of Betsoft's confectionery-themed online slot. This time, colorful candy varieties cascade down a 7 x 7 grid; improving the 3x x 5 board used in the original Sugar Pop. However, players need to land on a cluster of four or more alike images, in order to create an Exploding Win.
The Bomb Candy and the Level Up Features are still present. Yet there is more to expect from this edition, such as Free-Spins and a Candy Wild. A Wild candy can help form a cluster, and therefore cause the disappearance of more symbols at no extra cost. 

Sugar Pop 2 Online Slot: Wild Symbol
A rainbow-colored Candy Wild appears when 5 or more identical candies explode as winning clusters. The Candy Wild though will remain in place, to boost chances of completing another Exploding Win. If that happens, then the triggering-bet garners additional rewards.
Sugar Pop 2 Online Slot: Candy Bomb Feature
In this Sugar Pop version, a Cluster of 5 or more same-candy variety produces a Candy Bomb. The exploding confectionery will destroy symbols within its area of coverage.
Area of coverage pertains to the number of symbols that will disappear during Candy Bomb explosions. The greater the number of winning symbols that set off the Candy Bomb, the higher the number of symbols affected.
Five winning symbols generate a Candy Bomb that explodes a minimum of 6 images. If 10 or more winning symbols produce a Bomb Candy, as many as 20 icons will explode.
Sugar Pop 2 Online Slot: Level Up Feature
The Star-Shaped Candy with an Arrow-Up, charges up the Level Up Meter. Each Level Up icon that comes into view works toward unlocking of the next level.
As reward for an advancement, players receive a Cash Prize. Moreover, every game level randomly releases a Surprise Egg Symbol. The latter explodes and reveals a Special Candy corresponding to the current level.
All Special Candies have distinct attributes that cause some random Sweets to explode. Every 4th Level reached by a player unlocks a  Special Candy in the following order:
Level 1: Gumdrop – This confectionery emerges in different colors. When in view, the Gumdrop absorbs all candy icons matching its hue, to free-up the related grid positions.
Level 5: Caramel Chew is a candy icon that travels across the play area, whilst absorbing all symbols in its path.
Level 9: Candy Cane works like a Candy Bomb as it destroys all sweets aligned to it within a row and column.
Level 13: Lollipop is a feature of the original Sugar Pop online slot. It shuffles all symbols currently displayed by the game board to create new arrangements.
Level 17: Fizzy Pop is a popping candy that pops images located in random positions across the play area.
Jelly Bean Cannon poses as a Jelly Bean dispenser. Expelling Jelly Beans that land on random images, the active Jelly Beans will then explode and free up the affected positions.
Level 25: Morphing Golden Wild is a special Candy Wild that brings guaranteed win/s. It replaces all candy icons annexed to it in order to create an Exploding Win.
Level 29: Sweet Hammer depicts a hard candy type, as it strikes the grid up to 9 times; destroying and removing a number of symbols in view.
Sugar Pop 2 Online Slot: Free Games
Regardless of the current Game Level in play, a round of free games may activate. A cluster of 4 or more Free-Spins Symbols achieving an Exploding Win sets off the Free Games. The number of bonus spins awarded depends on the number of Free-Spins icons that exploded.
A Cluster of 4 exploding Free-Spins sets off five free games. Each additional element triggering the free games, raises the bonus reward by 2 free-spins. Yet if during the bonus bout, another cluster of 4 or more Free-Spins Symbols explodes, the number of bonus spins awarded as a set of triggering elements will be added to the remaining free turns.