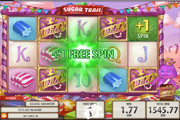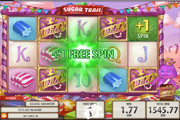 Sugar Trail Online Slot – Experience Sweet Rewards from Royal Gummy Bears
Sugar Trail online slot from Quickspin delivers fun and exciting ways of experiencing sweet rewards bestowed by a family of generous Royal Gummy Bears. This candy-themed online casino entertainment offers loads of guaranteed real-money prizes that can be won from three (3) different bonus games.
Sugar Trail players can expect to land on reel outcomes filled with different kinds of win-boosting Wild Symbols, from Regular Wilds, to Stacked Wilds, Flying Wilds, and Respin Locked Wilds.
[/CBC]

The possibilities are amazing, which include that of triggering the bonus features one after another, and even repeatedly during a single game session. The Purple King Gummy Bear, the Green Queen Gummy Bear, and the Blue Prince Gummy Bear all have bonus prizes to award, and all for the players taking at no extra cost at all.
Sugar Trail Online Slot "Sugar Cash Instant-Win Bonus"
This bonus segment awards cost-free, guaranteed cash prizes, courtesy of the Blue Prince Gummy Bear. The latter emerges in Reels 3, 4, and 5 only. In the event that the Prince Gummy Bear appears in all three reels simultaneously after a paid spin, the "Sugar Cash Bonus Game" sets off.
Each of the three Prince Gummy Bear reels will be replaced with prizes, comprising cash rewards and prize multipliers, while Reels 1, and 2 are hidden. Sugar Trail players will spin the three reels and await the outcome of the middle row. That particular reel section determines a bonus player's cash prize and applicable win multiplier, if any.
Sugar Trail Online Slot – "Sugar Locked Wilds Respins"
Sugar Trail slot players who launched a paid spin that returns with three Green Queen Gummy Bears in any position in Reels 2, 3, and 4, stand to receive a cost-free respin. The three reels in which the Queen Gummy Bear appeared, will likewise be replaced with bonus prizes. The replacements include instant cash rewards, numbers of Locked Wilds win-boosters, and numbers of Respins to receive as bonus spin.
Again, the items that land on the middle row indicates the number of Locked Wilds that will be added as symbol overlays to the outcomes of a respin, as well as the number of respins to launch. The middle-reel spin outcome may also include an instant win cash prize in addition to the Locked Wilds and the Respin. During the free turn, a + 1 Respin icon may appear, therefore giving players extra opportunity for increasing their Sugar Respin winnings.
Sugar Trail Online Slot – "Candy Free-Spins Bonus Game"
This bonus segment is king, and brought to players by no less than the Purple King Gummy Bear. Appearing as a large-sized Sugar Trail reel icon, the King Gummy Bear emerges only in Reels 1, 2 and 3. Once all three reels display three King Gummy Bear icons as outcomes of a single paid spin, a Sugar Trail slot player who achieves such a feat will enter the free-spins round.
Following the same game mechanics as the two other bonus games, Reels 1, 2, and 3 in which the King Gummy Bear appeared will be replaced with bonus rewards. Rewards include the number of Flying Bonus Wilds that will be added to the reels as overlay symbols and the number of bet-free spins. During the "Candy Free-Spins" round, the reels may include a +1 Free Spin tile.
Moreover, the King Gummy Bear has a tendency to be extra generous. It spreads additional Flying Wild overlays across the screen, which are in addition to those originally granted as Bonus Rewards.