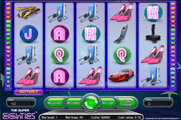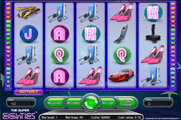 Super Eighties Slots for Fun
Super Eighties Slots is an amazing video slot machine that is going to offer players a truly authentic and a nostalgic gaming experience that is themed around the 1980s. So if you were born in the 80s and if you were a teenager during the 80s, then you will surely enjoy this game that is going to take you back in time to that beautiful time period where you can enjoy all of the aspects that made the 80s the great time it was.
[/CBC]

Slots for Fun captures the 80s Environment
The game manages to create the 80s environment through its amazing visuals that are inspired by the 1980s, the sounds track that players are going to hear during the game play and the bonus and special features of the game. Speaking of special features, the game has plenty. They can all be viewed at the pays page of the game. This page can be opened as players click on the game's Paytable button that has a pink color. This payouts page is not only going to show players the special features of the slot or the bonus rounds, as it will also show players the different line pays that each symbol can give. The biggest reward that players can claim by getting a winning combo of at least 3 matching symbols is equal 1000 coins. This reward is given to players who manage to get 5x wild icons on the same payline.
Besides giving the biggest line pay, the wild icon would also replace any of the other non special icons on the reel of the game so players can claim a line payout. The Wild symbol is not the only special icon that this slot machine has, as there is also a scatter symbol. This scatter is represented by none other than the Scatter Female Dancer. This scatter icon has a lot to offer to players. First, it will offer players scattered rewards , as players who get 3 scatters will get their bet multiplied by2x. Also, three scatters would give players the ability to enjoy a total of 5 free spins on the slot machine. If players manage to get 3 more scatter icons during the free spins round they are going to earn a 2x multiplier and earn an additional 5 spins.
The rest of the symbols that give regular pays include 80s styled boots, walkmans, an 80s sports car, a mobile phone and card symbols.