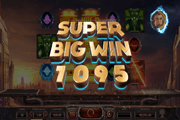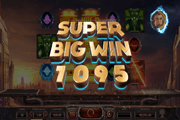 Super Heroes Video Slot: Six Super Champions Appear to Power-Up Reels with Win-Boosters!
Super Heroes is a cartoon-based video slot by Yggdrasil, featuring six (6) fictional super beings with extraordinary powers. Every Super Hero appearance unleashes fantastic win-boosters that increase, or guarantee players' chances of hitting wins!
The Base Game reels randomly summon (activate) the Super Hero Feature while the Free Games guarantee the feature's occurrence after every bonus spin. Even greater still is that during a round of free games, a hero's win-boosting power is upgraded after each free-spins summoning.

Super Heroes Video Slot: Super Hero Feature
Get to know the six (6) Super Heroes, as players will have a chance to experience their ability to enforce changes benefiting those who place bets on each spin. Two (2) champions will be summoned whenever the Super Hero Feature is activated arbitrarily after a spin. Animated figures of both characters appear one after another, adding special elements that can optimize the outcomes of the triggering spin.
Mirage, the female defender in green costume has the power to add Instant Wins by replacing random alien creatures with Coin Credit Values. At Level 1, Mirage's Dice bring coin rewards ranging from 5-1000 coins. In leveling up to the next three stages, the range of rewards increase as follows:
• Level 2 – 7 up to 1000 coins
• Level 3 – 12 up to 1000 coins
• Level 4 – 20 up to 1000 coins
Raven is the female defender in red who uses a rotating blade to transform symbols into Wild Reels. At level 1, Raven targets random symbols and turn them into one Wild Reel. After the first summoning and via different triggering spins, the Level 2 Raven will add 2 Wild Reels, then 3 Wild Reels at Level 3, to reach a maximum of 4 Wild Reels at Level 4.
Hopper the hero wearing a costume resembling a grasshopper. Hopper brings a shower of meteors across the reels, whilst turning any symbol into a Wild. The number of Wilds added increase by one in each Hopper level, to reach a maximum of 4 Extra Wilds when appearing as Level 4 Hopper.
Tesla the Super Hero sporting a black costume who demonstrates his power by creating an impact wave. The powerful salvo could change random symbols into identical images guaranteed to create at least one payline win. Starting with two arbitrary images at Level 1, the succeeding Tesla Super Hero feature creates 3, 4, or 5 identical icons in Levels 2, 3 or 4, respectively.
Trance the heroine in blue costume and the only Super Heroes character that does not appear as a random base game feature. Trance Levels 1, 2, 3 and 4 are summoned only during the free games, as her ability involves adding 1, 2, 3, or 4 Extra Free Spins.
Knox, seemingly the leader of the league, and with the most compelling win-boosting feature. Knocks shoots fire beams across the reels to produce a win multiplier applicable to the Total Win of a triggering spin. Knox's win-multipliers range from x2 up to x5, awarded accordingly based on the level of the character.
The Super Heroes emerge in random levels during base game summoning. Unlike in the free round in which Super Heroes are summoned after each bonus spin, reels are enhanced in accordance with a character's level progression.
Super Heroes Free-Spins Bonus Game
Three or more Free-Spins icons correspondingly award 4, 6, or 7 bonus spins as initial rewards. All six (6) Super Heroes enhance reels starting with their corresponding Level 1 power.
A free round cannot be retriggered. Yet if by chance Trance is summoned after a spin, additional bet-free spins will be awarded accordingly.