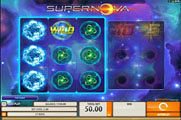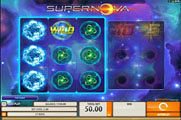 Super Nova Free Slot Experience
It is a unique game that has a special theme as it will take players on a great and a wild adventure into outer space as they experience the Super Nova blast first hand. Of course, since the game is backed by Microgaming, which is one of the top names in the industry, players can expect to find top notch visuals and great animations that come accompanied by state of the art vivid sound effects that help players get engaged into the theme of the game for an overall captivating and an outstanding experience. Players who are looking forward to enjoy this game for free, they can do it here on freeslots.me or they can head to Microgaming powered online casino in order to try out the game with real cash.
[/CBC]
The unique Format of the Free Slot
The game has a very unique format that does not resemble any other video slot machine on the market. The game's five reels are divided into two sets. Players will see 3 reels on the left and 2 reels on the right. Each set has 3 rows of symbols. On these reels, players will see plenty of space themed symbols. The game does not have any paylines but it comes with 27 ways to win. While some people may believe that this is a small number of ways to win, just wait till you read the rest.
After players place the bets at the bottom by choosing the total bet, which starts at 0.25 and end at 50, they will click on spin, which is located on the right side. After clicking on spin, the reels will start to spin. If players manage to get any 3 matching symbols on the 3 reel set on the left, they will be paid and the payout will be written with a big font on the screen. After claiming that payout, players will see that the reel set on the right is still spinning. This reel set does not only have symbols as it has multipliers as well. The whole purpose of this set is to multiply the winnings that players have earned from the left reel set. Players who get a multiplier on the first reel in the middle row, will have that multiplier multiplied by their payout, if they get another multiplier on the second reel in the same position, they will have the payout multiplied once again by that multiplier. The biggest multiplier is equal x10.
The game has a special symbol, which is a magical sphere that has the word Wild in it. This icon is wild which means that it can replace any other symbol on the three reels on the left in order to help players get 3 matching symbols so they can earn a payout so they can become eligible to spin the other set to earn multiplied rewards.