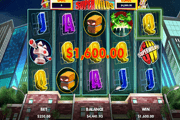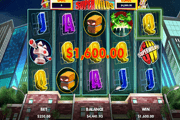 SuperWilds Online Slot – Four Amazing Wild Symbols; Four Distinct Win-Boosting Elements!
SuperWilds is a Genesis Gaming online slot built on reels configured with 25 non-fixed paylines. Creatively themed after four (4) unconventional super heroes, this real-money gambling entertainment uses every hero icon as Wild Symbol. All four (4) substituting elements are capable of posing as alternative icon to every symbol, without any exception at all.
Even greater still is that the entire lot can initiate the activation of the Free Games. Whenever forming a trigger-combination of 3 or more, the game does not require a combination of identical images. Every wild card can stand-in as substitute for another type of Wild Symbol. The SuperWild Hero highlighted as featured icon, will then take on the task of optimising the free games with their respective SuperWilds ability!


SuperWilds Substitution Symbols
Actually, this online casino slot has five (5) types of substitute icons that can complete or lengthen matched- grouping/s of reel elements positioned consecutively in the same payline. One is the SuperWilds Game Logo, representing a straightforward wild card with regular substitution abilities.
The other four (4) possess a distinct win-boosting attribute that takes effect only if designated as primary feature of the Free Games. Otherwise, they merely pose as substitute symbols in both base and bonus games; simply completing or expanding winning combinations in played lines.
The Multiplier Man also known as The Tripler, because it comes with a 3x Win- Multiplier. When featured as the dominant Super Hero of a Free-Spins Round, all wins will be tripled.
The Doubler, also a Multiplier Man for its 2x Multiplier trait. Similarly, this Super Hero Wild doubles all winnings when designated as the prevailing Free Games SuperWild.
The Expando-Man (Expanding Wild), the rotund defender in red costume, who expands into a humongous full-reel icon when featured as the principal Wild Symbol of the bonus games.
The Spin Twins, depicted by a brother and sister duo; capable of adding five (5) additional bet-free spins if highlighted as the main SuperWild during a bonus round.
SuperWilds Online Slot: Free Games
Three or more SuperWilds, regardless of win-boosting specialisation, and appearing in any column or reel-position after a single spin, initiate the launch of the Free Games. Supposing one (1) SuperWilds Game Logo, one (1) Multiplier Man -The Tripler, and one (1) Expando-Man, are all in view after a paid spin, the game will proceed with the Free-Spins Round. Prior to launching the first bet-free spin, the board will highlight the primary SuperWilds Hero for that round.
If in that particular round, the introductory panel highlights The Tripler as main Wild Symbol, all bonus wins will be tripled. In the event the reels return with more than one icon of The Tripler, the multiplying factor will then increase to 9x; (3x Multiplier . 3x Multiplier).
Similarly, the Spin Twins can extend a round of free-spins whenever this Wild icon emerges as outcome of a bonus spin. Every Spin Twins Wild occurring after a spin will add five (5) bonus spins. Multiple occurrences of the icon in a single instance therefore, multiplies the number of spins extending the round.