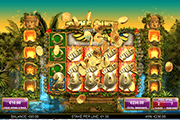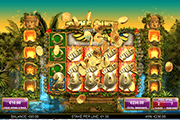 Temple Quest Spinfinity – Mega Icons Fill Reels with up to 16 Identical Images
Temple Quest Spinfinity is another innovative online slot released by Big Time Gaming; offering 40 fixed betting lines framed within a 4 x 5 grid. The game optimizes paid and free-spins with Mega Icons. Each of which may bring up to 16 identical symbols in 4 adjacent rows and 4 consecutive reels. Awesome even is that the Free-Spins Symbol comes in a Mega 3 x 3 dimension. Any portion of the Mega Free Spins Symbol can set off a bonus round.
The number of free turns awarded depends on the number of visible positions occupied by the Mega Free Spins icon. The best part is yet to come. The round plays on a grid, configured to ensure constant occurrences of Mega Symbols; including a Mega Free-Spins icon. Factor in the Spinfinity attribute, as the Mega Free-Spins may appear repeatedly and therefore award additional bonus turns.


Temple Quest Spinfinity: Mega Icons
Initially, a Mega Symbol carries the image of an Amazonian Princess. The image though is a non-paying element, as it subsequently reveals a cluster of identical icons once the reels stop. Mega Icons usually appear in its 4 x 4 configuration, but may also come in 2 x 2, or 3 x 3 dimension.
Random base game spins may produce a full or partial display of those Mega elements. In a round of free games, all Free-Spin outcomes will include Mega Icons; either partially or in full 4 x 4 colossal size.
Temple Quest Spinfinity : Wild Symbol
A red Wild emblem appears in any reel and may also emerge as a Mega icon. Such an occurrence therefore greatly increases chances of hitting multiple payline wins via a single spin. Regular-paying images aligning with the Mega Wild icon easily complete winning payline arrangements.
The best Mega Wild outcome is one that lands fully on the first four reels. The event brings sixteen (16) Wild icons in adjacent and consecutive positions starting from the leftmost reel onward. Not for naught, because the Wild Symbol pays a corresponding reward on the longest combination occurring as payline win.
A set of 2, 3, 4, or 5 Wilds forming a winning payline arrangement, comes with an equivalent pay of 5, 15, 125, or 375 times the Line Bet.
Temple Quest Spinfinity : Mega Free Spins Icon
A Mega Free Spins icon comes in a 3-row x 3-reel configuration. Any visible segment of this monumental element can activate a Free-Spins Bonus Round. Each tile comprising a Mega Free Spins icon comes with a bonus spin reward. So if a full-size Mega Free Spins totem occurs as outcome of any spin, up to 9 free games can be won. If only one or two rows are in view, 3 or 6 Free-Spins activate accordingly.
Temple Quest Spinfinity : Free Games
A Temple Quest Spinfinity free round plays on a game board in which only Reel 1 contains an assortment of icons. On the other hand, Reels 2, 3, 4, and 5 will always display portions or full-size Mega Images. The round's icon-matching exercise therefore, mainly involves Reel 1 images and the set of identical symbols brought on by the Mega Icon/s.
That particular attribute makes the Spinfinity feature possible. Additional free games can be won repeatedly, and without limit during a free round. Players could get lucky by constantly landing on a partial or full display of the Free-Spins Mega Icon.