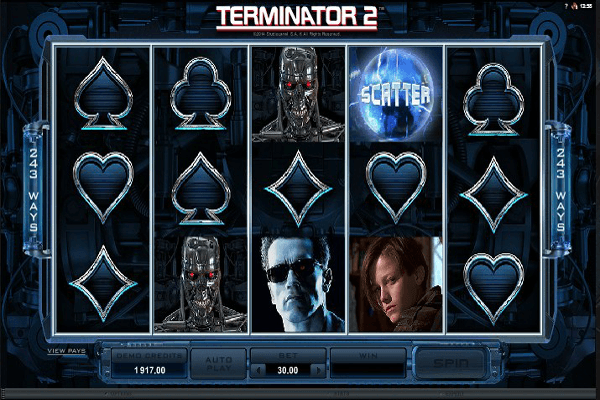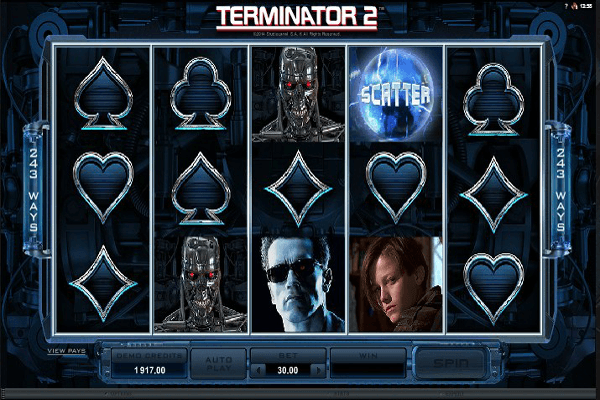 Terminator 2
Terminator 2 free slot is the newly released hit game by Microgaming. It is the sequel of Terminator, the amazing movie themed game that was released by the same software developer years ago. This game is themed around the adventure of young John Connor and his mother as they try to escape a deadly Terminator that was sent from the future in order to kill him and stop him from growing up to lead the resistance against the machines. They are aided by another Terminator who was programmed by the resistance to help him survive. The movie was a great hit and made Arnold Schwarzenegger a Hollywood A-lister and paved the way for a successful career.


The Symbols of the Free Slot
As soon as the game loads, players will quickly notice the theme of the game from the visuals of the game and the design of the reels and the game's interface. It has a dark and a grim futuristic mechanical feel to it, to be fitting to the theme of the game. The symbols that are going to appear on the 5 reels of the game include characters from the movie such as John Connor, Sarah Connor, his mother and the terminators, the T-1000, T-800 and Arnold Schwarzenegger's terminator. Players will also see poker card suits (diamonds, hearts, clubs and spades).The game does not have a paylined based format as it offers players more chances of winning through its 1024 ways to win setup.
Of course, being a Microgaming game automatically means that it comes in great high quality visuals and comes packed with a long list of special symbols and bonus rounds that can give players great amounts of coins in rewards. The first of these special symbols is the scatter ball of electricity. This symbol gives out generous scattered pays to players who get at least 2 of them on the reels. They can win from 30 to 3000 coins, depending on the number of scatters that landed on the reels. The scatter icon can also trigger the free game round in which players can rightfully earn 10 free spins. During these rounds, the T-1000 can use his special abilities in order to turn into any other character symbol to help players form a winning combo. The T2 fiery symbol is a wild icon that can replace all icons except the scatter icon and the T-1000 icon whenever it lands anywhere on the game's reels.