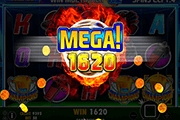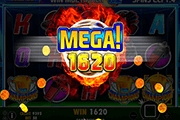 The Champions Online Slot: Score Goals to Increase Win-Multiplier
The Champions online slot is Pragmatic Play's 25-payline, football-themed offering. In this game, players must strive to land not only matched payline contents, but also to Score Goals.
Scoring a Goal is achieved every time the Soccer Ball icon lands on a Crosshair-marked spot. If achieved, the default 1x Multiplier increases. However, players need to score another goal within a 10-spin period, in order to earn another Multiplier increase. There is no limit to the number of times a multiplier may progress, for as long as goal scores occur during uninterrupted sets of spins.
The Champions Players can also collect considerable amounts of bonuses, by striking goals in the Penalty Shots Bonus Game. Here, the goal scoring quest continues to give players a chance to win as much as 100x the Total Bet. In the meantime, while trying to spin one's way in order to Score Goals and get a chance to take Penalty Shots, The Champions Logo will appear in any reel as Wild Symbol.


The Champions Online Slot: Wild Symbol
The Champions Logo can also bring remarkable wins. Aside from having capability to act as joker card, it also awards the highest payouts when occurring as a winning combination.
A set of 3, 4 or 5 Logo Wilds, organised as payline contents starting from the leftmost reel, is a win. The longest winning Wild arrangement awards 80, 500, or 1000 credits multiplied by the Line Bet.
The Champions Online Slot: Momentum Progressive Feature
This feature actually pertains to the Multiplier Progression that works in conjunction with the base game Goal Scoring aspect. A regular spin commences as Level 1 with a 1x Win Multiplier. If at Level 1 a Goal Score transpires, the game transitions to Level 2 with a +1 increase in Multiplier Value. The new 2x Multiplier will then apply to all payouts gained during the next ten (10) Free-Spins.
Another Goal Score hit within the Level 2 10-spin period, will increase the Multiplier to 4x. A corollary resetting of the number of spins to 10, transpires as well. A spate of Goal Scores thereafter will raise the Multiplier to 6x, 8x, 10x, 12x, 14x, 16x, 18x, up to a 20x maximum.
There is no limit to the number of times a Multiplier will apply once the 20x Multiplier is hit; for as long as Goal Scores are achieved within the prescribed number of spins. If otherwise, the Multiplier resets to x1.
Achieving Goal Scores – Take notice of the Crosshair Overlay. The placement of this element is not random, because players have a freehand in selecting a position on which to place the overlay. Crosshair shifting though must be done before a spin launches.
If a Soccer lands on the overlay, then a Goal is struck. As an aside, Soccer Balls may also land as winning combination. As a matter fact, 3, 4 or 5 Soccer Balls organised as a payline win, command a corresponding payout equal to 50, 200 or 500 win-credits.
The Champions : Penalty Shots Bonus Game
Land on three (3) Red Penalty Flags in Reels 2, 3 and 4 by way of a single spin. Doing so sets off the Penalty Shots Bonus Game. This bonus segment is actually a Pick Bonus Round in which players are given five (5) picks with which to choose a Crosshair icon.
If the Penalty Shot strikes a Goal, a bonus will be awarded. Hitting a goal with a correct guess awards a cash prize equal to 5x the Total Bet. Hitting 2, 3 or 4 garners a cash bonus equivalent to 10x, 15x or 25x the Total Bet, respectively.
Yet if all five 5 Penalty Shots taken results to a perfect Goal Score, the reward will be 100x the Total Bet.