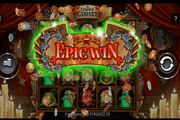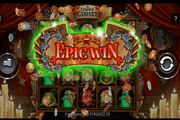 The Curious Cabinet Online Slot: 2 Scatter Symbols, Multi Random Bonuses, Including Free-Spins
The Curious Cabinet is a 40-payline online slot created by Iron Dog Studios in collaboration with 1×2 Gaming. It runs on a 3 x 4 grid depicting a bureau filled with images, suggestive of objects used in conjuring black magic.
Here, a Silver Drawer that turns up as outcome of a paid game, may award a Respin, instant Coin Wins or a 2x Multiplier. Now if 2 Silver Drawers are simultaneously in view, the game immediately transitions to a round of free games. During the bonus round, the grid expands with a fourth row containing Silver and Gold Drawers. The two Drawers take turns in revealing a bonus prize on every free-spin. However, some Silver or Gold Drawers are be empty, and therefore nothing to offer as special prize.
Aside from the Drawer Feature, this game has two (2) Scatter Symbols that simply reward players with Scatter Pays. At least 4 images of a Monster, or of a Sinister Doll, emerging as single-spin outcomes in any position, draw out additional winnings. Awesome even is that those special icons may emerge, or expand as large-size symbols. When appearing as such, they increase possibilities of raking in high-value Scatter Pays.


The Curious Cabinet Online Slot: Drawer Bonus Feature
Two (2) types of Drawer Symbols award random bonuses. One is the Silver Drawer, which appears at random during base and bonus games. The other is a Gold Drawer that maintains a constant presence during free rounds.
Silver Drawer
Silver Drawer icons emerge only in Reels 2 and/or 4. One (1) Silver Drawer taking position in any of those 2 reels, awards a bonus prize or nothing at all. Two (2) Silver Drawers in place via a single spin is better, because the game instantly advances to the free stage.
Nonetheless, the random prizes which a Silver Drawer reveals include the following:
Guaranteed Win-Respin – This bonus feature comes with a guarantee that the forthcoming Respin will result to a total payout that is equivalent to at least 40 coin credits. To ensure that a win will transpire, a Sticky Wild will replace the Silver Drawer icon.
2x Win-Multiplier – All payouts garnered from winning paylines and/or Scatter combos double, but only for the spin that produced the Silver Drawer Multiplier.
Coin Wins – of 40, 80, 160 or 400 may come out of the drawer as instant bonus prize.
Now if a Silver Drawer reveals only a pair of grasping hands, it means the Silver Drawer does not have any bonus reward to give away.
Gold Drawer
Gold Drawers are available only during free rounds. A Gold Drawer has a broader range of Coin Wins to award; 40 coins or higher, up to as many 2000. It can also bring out a 5x Multiplier that applies to Payline or Scatter winnings occurring as outcomes of the same spin.
The Curious Cabinet Online Slot: Free-Spins Round
This bonus feature sets off once two (2) Silver Drawers come into view. Eight (8) Free-Spins will roll in a bonus grid configured with an extra bottom row containing only Silver and Gold Drawers. On each bonus spin and until the round ends, each Drawer alternates in revealing its content; folĺowing the order by which they appear: Silver, Gold, Silver, Gold and Silver.
As additional win-boosting feature, an Expanding Plant Wild may emerge in the last row. Once in place, the plant icon grows to cover the entire column with Wild Symbols. During free rounds, a bonus spin may yield up to three (3) Expanding Plant Wilds.
The Curious Cabinet Scatter Symbols
Scatter Symbols are special because they can draw payouts outside of paying lines. In this game, images of a Sinister Doll and of a Mysterious Monster award Scatter Pays. That is, if 4 or more units of their image, are simultaneously in view.
Sinister Doll tokens may occur in reels as a full image occupying 2 or 3 positions in a single reel. if only a portion of the image is visible, the sections in view can still contribute in completing a Sinister Doll Scatter Combination. This Scatter Symbol awards 40 coins or higher, up to a maximum of 24,000; depending on the number of Doll images scattered across the grid.
Mysterious Monster icons may also occur in 1×2 dimensions that may emerge fully or partially. A larger image of the Monster may also appear; occupying 2 connected rows of 2 adjacent reels. A full display of the 2×2 Monster Symbol instantly furnishes 4 units that instantly yield the minimum 40 coin-win. Players stand to collect more, if multiple Monster Symbols spread out as outcomes of a single spin. If by chance the entire grid fills with Monster images, the Curious Cabinet awards a grand Scatter Prize of 40,000 coin credits.