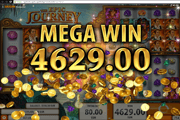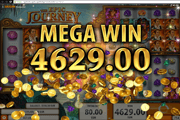 The Epic Journey Online Slot -Exciting Pay-Boosting Features that Deliver Super Big Wins!
The Epic Journey is a Quickspin 3-in-1 Online Slot. It delivers exciting reel-spinning adventure by featuring awesome win-boosting elements and a diverse set of Bonus Games. Slot players will no doubt feel the intensity of the game once they experience the thrill of receiving not just Big Wins but Super Big Wins as results of the Special Wilds and of the different Bonus Games.
The Epic Journey Online Slot Tri-Grid Slot Presentation
The Epic Journey reel-spinning actions occur in three sets of 4-row, 5-column Reel Grids displaying objects and characters inspired by the Jules Verne novel, "Journey to the Center of the Earth." Grid 1, the largest of the 3 grids, makes use of the game's 40-payline configuration. Grids 2 and 3 utilise payline patterns 1-30. The tri-grid set-up spins reels simultaneously to make available all winning positions on which identical symbols land as matched-payline combinations.


A single base game spin can produce multiple payline wins, as the different reel symbols in each grid can complete separate payline wins all at the same time. The best part about the 3-Grid configuration is that it increases slot players' chances of landing on win-boosting Bonus Features and Bonus Game trigger symbols.
The Epic Journey Regular Wild and Special Volcano Wild
This Quickspin online slot furnishes two kinds of Wild Symbols. One is the plain but lucrative Regular Wild Symbol. It emerges in single form or in stacked formation in any Grid and in any reel position. Regular Wild icons completing matched payline combinations pay 50, 80, or up to 500 coins for every 3, 4, or 5 Wild Symbols.
The Volcano Wild Symbol– This is the second Wild icon that is more potent as it literally transforms any regular icon into Regular Wild Symbols anywhere across the reels of all 3 grids.
Two Volcano Wilds appearing as outcomes of a spin will cause the Volcano Image to erupt. Balls of fire rain down, to subsequently transform into Wild Symbols those that have been hit by fireballs. The outcomes are likely to be astonishing, as numerous Wild Symbols will spread out across all grids.
The Epic Journey Bonus Games
The Bonus Game segment of this online slot offers not just one but three (3) games from which players can expect to realise lucrative wins. The image of a Virgil-like, drill-nosed vehicle, is the Bonus Game trigger symbol. One Bonus Game Symbol in every grid, appearing simultaneously after a spin starts the Pick Me Bonus Round. Players will then select one of four (4) rune stones to reveal and receive any of the following Bonus Rewards:
Coin Win A specific number of coins will be awarded as instant Bonus Win.
Safari Free-Spins Game awards a set of ten (10) bonus spins. Although constituting the same mechanics and special features as those found in the base game, the Safari Free-Spins reels offer additional Special Wild Symbols with Win Multipliers of up to 5x. Each grid has a designated Special Wild Symbol that players must land on and collect accordingly, in order to activate the Multiplier factor.
Mushroom Hunt is also a Pick Me Game comprising three (3) chances of revealing coin rewards and/or a +1 Pick with Win-Value Multiplier.
Fossil Hunt is a mini slot game that produces only Shovel icons as outcomes of each spin. A set three spins are in play, and every Shovel icon revealed by the reel has a corresponding coin prize. The greater the number of Shovels collected, the higher the number of coins received as bonus rewards.