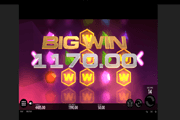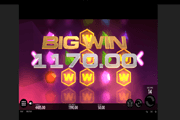 The Flux Online Slot – Three (3) Choices of Bonus Game Features: Win-Both-Ways, 3 Extra Rows or Combination of Both!
The Flux is one of Thunderkick's earlier online slot titles, showcasing a flux of bright and sparkling multi-faceted crystals as reel icons that flow in and out of a frameless slot grid. The base game evaluates wins conventionally. A grouping of identical symbols in any of the 15 fixed-paylines is a win if the arrangement starts from the leftmost or first reel.
The Flux slot players entering the free round have increased chances of landing on top paying or multiple bonus-spin wins. Three Bonus Games are available as choices, each with a spin-optimising feature: Win-Both-Ways, Extra Rows, or Win-Both-Ways and Extra Rows combined. A Wild Symbol will make multiple wins possible as it appears now and then, and sometimes as stacked symbols in one or more reels.
[/CBC]

The Flux Online Slot: Wild Symbol
A simple W represents the Wild Symbol. In both base and bonus game reels, the W Wild may appear in whole, or in part as stacked icons in any reel. A W Symbol combining with identical symbols in any payline can pose as suitable alternative to complete a payline combo; or to expand matched groupings into longer combination/s.
The Flux Online Slot: Bonus Game Trigger Symbol
The uppercase B emblem serves as the Bonus Game trigger-symbol. Three, four, or five B icons taking position in any spot across the reels, initiate the launch of the Free-Spins Bonus round. The following Bonus Game modes are then presented as choices:
Free-Spins on Bonus Reels that Pay Both Ways – Identical symbol groupings lining up consecutively in any payline, whether starting from the leftmost or from the rightmost reels are evaluated as winning combinations. In this Bonus Game Mode, three, four, or five B Symbols correspondingly trigger 16, 32 or 48 bonus spins.
Free-Spins on Bonus Reels with 3 Extra Rows – Here, the free spins experience is akin to playing simultaneously on two sets of bonus reels. The feature therefore gives players increased opportunities of landing on multiple wins via a single bet-free spin, since the payline configurations are likewise duplicated in the extra set of rows. Moreover, additional B Scatter Symbols emerging after a bonus spin, likely increases the odds of retriggering the free round. Three, four, or five B Scatters award 12, 24, or 36 free-spins.
Free-Spins on Bonus Reels that Pay-Both-Ways and with 3 Extra Rows The flexible pay-both-ways reward scheme and the 3 additional rows put together in this bonus game mode likewise increase greatly the chances of hitting multiple and/or top-paying payline wins with just a single bonus spin. Eight (8), sixteen, twenty-four free-spins are awarded accordingly on groups of 3, 4, or 5 B Scatters.
The Flux Online Slot: Betting Options
All 15 paylines are available with every spin activated by a player's wager. The betting choices are bet amounts covering all win lines, ranging from 0.10 up to 100.00 per spin.
Be in the know that rewards increase in proportion to the bet size. The highest-paying Star Crystal for one awards 0.20, 0.40, or 2.40 on a 3-, 4-, or 5-of-a-kind combination produced by a 0.10 Bet per spin. On the other hand, a MaxBet of 100.00 per spin earns players 200.00, 400.00, or 2400.00 on groupings of 3 or more Star Crystal winning symbols. This denotes that Star Crystal wins accordingly award 2x, 4x, or 24x the Bet staked per spin.  Payouts though, are made only on the longest winning combination per payline.