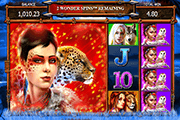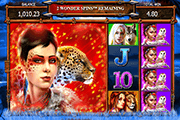 The Guardians Online Slot: Non-Winning Wonder (Free) Spins Can Turn Reels into Super Stacked Wilds
The Guardians online slot by Inspired Games/NYX Gaming, presents five (5) beautiful women as Guardian Warriors of an African wilderness. Their icons appear as top-paying symbols, with Paytable Values ranging from 8 to 80 credits. All symbols, including the Wild, the Mystery Symbol, as well as the low-win A, K, Q, J and 10 icons may appear as Super Stacked Symbols in any reel. The Guardians Logo and the Wild Symbol are the highest-paying icons. Both award as many as 15, 30, or 200 credits when 3, 4, or 5 occur as winning combinations in any of 40 paylines.
This online slot awards more than just bet-free spins as bonuses. Inspired Games calls its free-spins, Wonder Spins. It is a bonus spin feature that makes a difference, by awarding Stacked Wilds after every non-winning Wonder Spin. Moreover, a special Tree totem springs a delightful surprise by being a Mystery Symbol. All Mystery Symbols displayed by the reels, transforms into a single type of randomly selected image. The results of which, may bring multiple payline wins out of a single spin.


Super Stacked Symbols comprise Stacked Symbols occurring in three or more adjacent reels. Each reel containing 4 identical images. Super Stacked Symbols of the five Guardian characters, transform into a colossal 3×3 Block when they form part of multiple combinations. There are instances when Super Stacked Symbols of any kind take positions in the first three leftmost reels. Such an outcome definitely equates to surefire wins.
The Guardians Online Slot: Wild Symbol
images of a Shield and Pair of Spears labeled as Wild, may appear in any reel. Although, configured as Stacked Symbols, the reels may return with partial or full displays of the Stacked Wilds. Nonetheless, any segment in view can combine and coordinate with identical images to form winning payline combinations.
Yet when three, four, or five Wild Symbols assemble as one-of-a-kind icons along any payline, the longest of the combination formed, garner the highest rewards bestowed by The Guardians slot. At the same time, any of the winning Wilds can also pose as substitute icon for other matched groupings in other paylines. Every grouping though must start from the leftmost position of apayline, in order to qualify as winning combination.
The Guardians Online Slot: Mystery Symbol
The iconic landscape image of an African Acacia Tree at Sunset represents the Mystery Symbol. The image may appear in any reel, and even as Super Stacked Mystery Symbols.
After a spin and before the outcome is evaluated for wins, all Mystery Symbols in view transforms into a single type of image. The replacement symbol though is selected arbitrarily.
The Guardians Online Slot: Bonus Game Trigger-Symbols
There are two kinds of Bonus Symbols emerging as outcomes of a spin. Both carrying the same Acacia Tree at Sunset view, one is simply labeled as Bonus, while the other is tagged as Super Bonus.
• Three or more Bonus Symbols anywhere across the play area award five (5) Wonder Spins.
• Three or more Super Bonus Symbols simultaneously in view in any reel or row, award fifty (50) Wonder Spins.
• When three or more reels display both Bonus and Super Bonus Symbols as outcomes, the Bonus Symbol mix also awards five (5) Wonder Spins.
The Guardians Online Slot: Wonder Spins
The bonus spins awarded by this game are extraordinary. If a Wonder Spin fails to produce a win, the feature embellishes the reels with one or more full-reel Wild Symbols. In fact, the Wild Reel additions tend to increase in number in the event that non-winning Wonder Spins occur in succession. The manner and order by which Wild Reels are added are as follows:
Non-Winning Wonder Spin 1 – turns the middle column into a Wild Reel.
Non-Winning Wonder Spin 2 – If the first non-winning Wonder Spin is followed by yet another losing Wonder Spin, Reels 3 and 5 become Wild Reels.
Non-Winning Wonder Spin 3 – If the third Wonder Spin likewise fails to produce a winning outcome despite the Wild Reel additions , the next set of Wild Reels takes positions in columns 3, 4, and 5.
Non-Winning Wonder Spin 4 -As final enhancements in a series of losing Wonder Spins, Reels 2, 3, 4, and 5 become Wild Reels. Such Wild Reel additions therefore, ensure that The Guardians bonus players will collect bonus wins from the last non=winning Wonder Spin.
If during a losing streak, a Wonder Spin results to a win, all Wild Reels in view will be taken out.
The great news is that this Bonus Game can be retriggered, and that it is possible to trigger the Super Bonus 50 Wonder-Spins Feature. During an extended round, the Wonder Spin Wild Reel additions may recur, in the order and manner prescribed by the game.