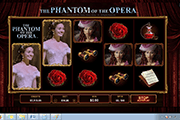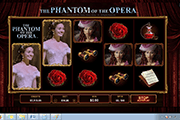 The Phantom of the Opera: 2 Base Game Bonuses and 3 Bonus Game Choices
The Phantom of the Opera online slot is Microgaming's adaptation of the 2004 film version of Andrew Lloyd Webber's Phantom of the Opera musical. Actual images of the actors and actresses portraying Erik/The Phantom of Palais Garnier, Christine, Raoul, Carlotta and Palais Garnier Managers, land as key icons that garner top pays. Their images may sometimes appear as 2-tile high icons in a single reel.
Aside from offering 243 ways with which symbols land as winning combinations, the game also boasts of 2 random base game features and 3 Bonus Game choices.
The Phantom of the Opera Online Slot: Regular Wild Symbol
The Game Logo acts as regular wild card that can represent any regular paying symbol. Identical images and complementing Logo Wild/s though, must be positioned consecutively in adjacent reels starting from the leftmost column. When 3, 4, or 5 Logo Wilds form a winning alignment, the longest arrangement garners a cash prize equivalent to 30x, 100x, or 300x the Line Bet value.


The Phantom of the Opera Online Slot: Random Base Play Bonus Features
During an ongoing base game spin, one of two events may happen:
Chandelier Bonus – A huge Chandelier image appears, and thereafter drops on the reels. After which, as many as 3 full-reel Wild Symbols land as outcomes of the related spin.
Letter Bonus – Erik's Letter occasionally emerges in Reel 5, simply to bring a random bonus cash prize.
The Phantom of the Opera : Free Games
Erik's Mask is special, because it awards Scatter Pays when two or more land simultaneously on any reel or row. Two, three, four, or five Mask Scatters in view, correspondingly garner a bonus equal to 1x, 3x, 10x or 100x the currently staked Total Bet. Three or more Mask Scatters are more significant, as such an outcome initializes the Main Bonus Event.
The event commences with the presentation of three (3) Titles pertaining to free-game options, namely:
The Music of the Night
Ten free spins will be awarded The round plays on a set of reels configured with Multiple Phantom Features that may occur singly, or as combined elements of one bonus turn.
• A x2, x3, or x4 Multiplier that will apply to all bonus wins elicited from the related spin.
• One up to three Wild Reels in random columns
• One up to five Wild Symbols in any grid positions.
• Up to five (5) Additional Free-Spins
All I Ask of You Free Games
This Bonus Round also awards 10 free-spins, whilst played on reels in which Christine and Raoul images pose as Wandering Wilds.
During the free round, a Christine and a Raoul Wild icon constantly floats across the grid. Both symbols land on any reel position once the spinning motion stops. As if performing a dance sequence, the Christine and Raoul Wilds may land on adjacent reels; or, even in the same reel. Such events activate a Dancing Wilds Feature.
• Horizontally in Adjacent Reels – The Reels displaying the Christine and Raoul images become full-reel Wilds.
• Diagonally in Adjacent Reels – Both Christine and Raoul images expand in positions that allow them to form a 2×2 block of Wild Symbol.
• Vertically in a Single Reel – When both images land on a single column, the entire reel transforms into a Wild Reel.
• Same-Row, Same-Reel Position – When the two special Wilds land on the same reel position, a x3 Multiplier will apply to any combination/s completed by the combined Wilds.
Masquerade Bonus Game
This is a 5-level Pick Bonus Game guaranteed to reward players with instant cash prizes.
In each game level, players will be awarded with three Picks in unraveling the prizes held by each Mask Icon. If all three (3) Mask choices reveal only cash rewards, the bonus will be awarded. However, this also denotes the completion of the Pick Bonus Game.
Some Cash Rewards come with a + 1 Pick. This means a player will have additional chance to unravel a Cash Reward with a Level Up! prompt. The Level Up! message enables players to collect current Pick winnings, as well as advance immediately to the next level. This goes without saying that players of the Phantom of the Opera slot, gets to reveal and collect higher cash prizes.
When advancing to Level 2, two (2) additional Picks will be awarded. If a player makes it to Level 3, one (1) additional Pick will be awarded. As Level 3 is the final round, all Picks are bound to reveal only cash prizes.