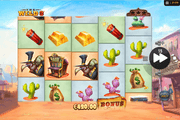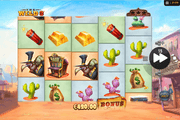 The Wild 3 Online Slot: Play with SuperBets to Activate All Wild Features
The Wild 3 online slot is a 10-payline, Wild West- themed content developed by NextGen Gaming. Although this games has 3 Wild Features to offer, only SuperBet wagers can activate all 3 simultaneously. Still, standard bets may unlock the regular Wild Feature. Also, other bonus features such as the Respin, the Free Games and the Mission Set can be accessed, even when playing with minimum or Level 0 SuperBets.
The three (3) types of Wild Symbols are the Wild Racoon, Wild Coyote and the Wild Bull. The Wild Racoon is the base wild card. It can replace random symbols with other Racoon Wilds. Wild Coyote icons change all types of Cactus Symbols into additional Coyote Wilds; but activated only by way of Level 1 and 2 SuperBet Modes. Level 2 SuperBets can make all Wild Features more potent; giving all, the power to generate a Multiplier that will increase Wild-win payouts.


The Wild 3 SuperBet Options
The following gaming options determine the type and number of Wild Features that transpire in base and bonus game sessions:
Level 0 : "El Loco Mode" is the standard betting option, which requires placing a minimum of 10 coins as Total Bet. This betting choice activates only the Wild Racoon for base and bonus plays.
Level 1 "5 Star" SuperBet requires staking 15 coins minimum on every spin. Aside from the Wild Racoon, the Wild Coyote unlocks and possibly appears as Extra Wilds.
Level 2 T-Bone SuperBet brings on all types of Wilds, including the Wild Bull feature. The Wild Bull additionally enhance outcomes of base and bonus games by empowering all Wild Symbols to increase Wild-winnings with a random multiplier of 2x, 3x, 5x or 10x.
All types of Wild cards take position only in Reel 3. When more than one type of wild is active, it is possible to land a spin outcome with more than one type of Wild in place. if so, the Wild Racoon plays ahead of the Wild Coyote, while the Wild Bull yields a Multiplier that will increase al wild-completed combos.
The Wild 3 Online Slot: Free Games
A round of 5 free games unlocks by way of a Bonus and Wild combination. Bonus Symbols positioned in Reels 2 and 4 combining with any type of Wild in Reel 3 activate the Wild 3 Free Round. During the brief bonus bout, all Wilds held by the 3rd Reel lock in place; including those subsequently appearing as bonus spin outcome. However the locking mechanism excludes the additional Wilds generated by Wild Racoon and Wild Coyote icons.
The round cannot be retriggered, but may extend by way of additional Free-Spins. Every Bonus Symbol or Extra Wild produced by a bonus spin, yields 1 Extra Free-Spin.
The Wild 3 Lock 'N Load Respin Feature
This special segment actually gives players 3 chances for unlocking the Wild 3 Free Games, if only 2 Bonus Symbols are currently in view.
In such cases, only the 3rd Reel respins 3x, or until it produces a complementing Wild Symbol. Once the Bonus-Wild combination becomes complete, the Free Round immediately sets off. Otherwise, the Respin Feature concludes after the 3rd free roll.
The Wild 3 Online Slot: Mission Set Feature
Mission Sets are achievements that players must aim to complete in order to unlock the "Rob the Rich Pick Bonus Game."
Take notice of the 3 Star icons displayed atop Reel 5. Tap on those badges to reveal a set of 3 randomly generated missions that players can complete on a single bet during a game session.
A Mission Set may include any of the following:
*Strike a Big Win of at least 25x the Total Bet
*Trigger a round of Free Games
*Set off the Lock 'N Load Respin Feature
*Activate a Wild Feature during Free Games
*Hit a 5-of-kind win completed without Wild Symbol substitution.
*Launch 100 paid spins uninterruptedly.
*Accumulate 20 winning spins via a single bet in one session.
Rob the Rich Pick Bonus Game
15 Money Bags are presented as Pick Choices. Qualifying players will have 3 chances of revealing a random cash reward, a Mystery Prize between 5x and 10x the Total Bet, or 2 Extra Picks.