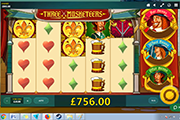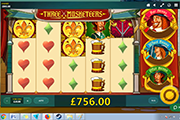 Three Musketeers Online Slot: Random Add- On Wilds and 3 Standalone Bonus Features
Three Musketeers is Red Tiger Gaming's online slot adaptation of Alexander Dumas' novel about the adventures of a young French nobleman named d'Artagnan. This game though focuses on the d'Artagnan's Three Musketeer friends, namely Porthos, Athos and Aramis. Each Musketeer is a Wild Symbol and has a Bonus Feature to offer. This online slot though, does not have a Free-Spins Bonus Round. Yet the special events that transpire by collecting Musketeer icons are good enough alternatives to a round of free games.
At random instances, any of the Three Musketeers enhance the reels with their respective Wild icon; greatly increasing players' chances of hitting multiple payline wins. They also emerge as Collectible tokens that work toward the activation of a Bonus Feature. Porthos can set off the Bar Bonus Game that awards a Win Multiplier. Aramis' bonus offering is also a Win-Multiplier, but awarded by way of a Bonus Wheel. Athos simply tenders a Cash Bonus, which players may choose to collect or forego in exchange for another offer.

The Gold Coat of Arms is the highest paying reel element.. Three, four or five of the image, aligning as winning contents, can draw out a cash reward; 80, 160 or 300 times the Line Bet.
Still, all symbols have great potential to land winning combinations. The only icons that appear via single tiles are the Collectible Porthos, Athos and Aramis tokens. .
Three Musketeers Online Slot: Wild Symbols and Random Wild Add-Ons
Each Musketeer has a Wild Symbol distinguished by color motifs. A Red Coat of Arms for Porthos, Blue for Aramis and Green for Athos. When emerging as outcomes of a spin, any of the three color-coded Wilds can perform substitution actions.
Porthos' Red Wild icon though is more potent as it appears rather frequently, being the Regular Wild Symbol of this game. When three, four or five Red Wilds align as a winning combination, the longest Wild arrangement garners a corresponding reward; 80, 160 or 300 win-credits.
The Blue and Green Wilds of Athos and Aramis also emerge in reels; but not as frequently as Porthos' Red Wild. Still, there will be random instances when Green and Blue Wilds take position as Wild Overlay Add-ons; further boosting chances of hitting multiple win outcomes.
Three Musketeers Online Slot: Bonus Features
Pay attention to the individual images of the Three Musketeers on the right side of the grid. Each display serves as Progress Meter that keeps track of all Feather Points released by Porthos, Athos and Aramis icons.
Once a Progress Meter is full, the Musketeer corresponding to the filled meter will activate his Bonus Feature.
Porthos' Bar Bonus
Porthos takes players to a Bar filled with hidden treasures. The first stop is the Luxury Room, which players will explore by selecting from one of three (3) Fleur-de-lis icons presented by Porthos. The Pick tokens reveal Arrow Heads that indicate directions by which players advance.
Should a player reach the entry of the Exclusive Bar Room, the event increases his or her chances of collecting a high-value Multiplier.
However, if a player lands on a Win-Multiplier while still in the Luxury Room, the Multiplier will be Porthos' Bar Room Reward. Any winnings garnered from the spin that completed the Porthos Collection, will then increase based on that particular Multiplier. At that point, the Bar Bonus feature also ends.
Aramis' Bonus Wheel
Aramis will bring out a huge Bonus Wheel to award a Win Multiplier by way of a single spin. The Multiplier that aligns with Aramis' sword when the Wheel stops, will be awarded as Win Multiplier. Any winnings collected from the spin that activated the Bonus Wheel will increase accordingly.
Still, there are Prize Wheel wedges that include a Plus (+) sign as reward. Landing on one will give a participating player another Wheel Spin. Any Multiplier produced by the second spin, or succeeding spins if ever, will increase the first Multiplier awarded by Aramis' Bonus Wheel.
Athos' Bonus Offer
Athos simply tenders an amount as Bonus Reward. Players may choose to Collect the reward or take another Bonus Offer; but not without forfeiting the current offering.
If a player chooses to reject the second Bonus Offer, he or she will automatically receive the third and final offer as Bonus Prize.