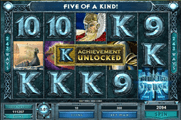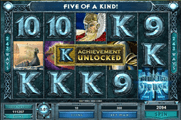 The gods have awoken, and now it's time for you to defeat them and claim your prize! Well, if video slots could talk, that's probably what Thunderstruck II would say to you. This game, naturally a sequel to the original Thunderstruck, once again brings back Thor, Loki, and a few other of their friends and foe alike that you might recognize. The first game was so successful that the gaming developer has decided to create this sequel, and even release a multiplayer tournament version of the game.
This five reel slot from Microgaming has a really great set of graphics and animations, and you just can't beat the theme. After all, with the popularity of the Marvel Avenger's movies, and the spinoff show S.H.I.E.L.D., it's no surprise that these popular characters are showing up more and more frequently. There have been some really bad examples, but Thunderstruck II is far from that category. The game allows you to join the gods of the Norse in a one of a kind gaming experience that is full of great prizes and fortunes. Players will be able to claim their own share of the prizes and the treasures of the Nordic gods and the vikings by placing bets and forming winning combos on the was to win of the video slot machine, as well as with the help of the special symbols and bonuses that the game has.
This is a video slot that is the epitome of how video slots should look. The theme is consistent throughout the entire game, and with all of the bonuses, wilds, and free spins (and more!) available, you will be very happy playing this game. It never gets boring, there is always something exciting happening, and just when you think you've had enough play time for the day, you hit a big win and want to play some more! The bonus games are especially nice, and it's really neat how they created a little something (or a couple of somethings) extra for those players that have put in a lot of time and energy into winning as much as possible. If you don't know what I mean, you should definitely check this out!
To conclude, the game has 5 reels, 243 ways to win and comes with an exciting theme that is about the Nordic Gods and the ancient civilization of the Nordic warriors, the vikings. it comes with many winning chances, free spins, wilds and more.