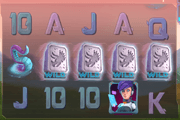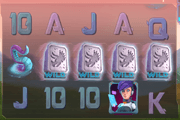 Time Warp Guardian : 5 Bonus Mode Spins Lead to Longer Free-Spins Round
Time Warp Guardian is a 243 ways to win online slot by Playson, available to play at Casino Heroes (Casino Saga). The game furnishes bonus wins by way of a brief 5-spin Bonus Mode that has potential to lead to a longer, more rewarding Free-Spins Round. Both Bonus Games have Wild Symbol attributes that optimize the free turns.
Actually, even the base game awards a bonus spin that is likewise optimized by a special Wild-enhancing facet. In all free games, a particular Wild Symbol combination initiates the related bonus feature.

[ws_table id="4″
The image of a female Time Warp Guardian is the highest paying icon. Apparently, her role is to keep things in line. Time warps supposedly and hypothetically distort time and space, allowing people and events to exist and occur in another era. The game uses the Time Warp Guardian's duty as motif for the Free-Spins Bonus Round. Objects corresponding to Jurassic, Ancient and Space Age eras are compartmentalized into three (3) types of Bonus Games.
Time Warp Guardian Online Slot: Wild Symbols
Three (3) kinds of Wild Symbol images land as eligible substitute icons that can complete a line-up of three (3) or more identical icons starting from the leftmost column. Holograms of a Dinosaur Footprint, an Ancient Roman Temple, and of a Spaceship are all wild cards. However, they are configured as exclusive elements of Reels 1 and 5 only.
Aside from acting as suitable representative for all images, certain groupings of Wild icons trigger the base game Sticky Reel Re-spin Feature, the Time Warp Bonus Mode, or one of three (3) Free-Spins categories.
In the Time Warp Bonus Mode, an uppercase W represents a special Wild that comes around as bonus feature.
Time Warp Guardian Online Slot: Sticky Wild Re-Spins Feature
In an event in which Reel 1 or Reel 5 returns after a spin with any two (2) Hologram Wilds (Dinosaur Footprint, Ancient Roman Temple, and/or Spaceship), that particular column will become a Sticky Wild Reel. After which, all base game reels including the Sticky Wild Reel will re-spin.
Time Warp Guardian Online Slot: Time Warp Bonus Mode
This bonus segment activates if four (4) Hologram Wilds are in view. Five (5) free games will be awarded; played on two sets of 3×3 Reels. The two slot grids spin simultaneously, but are evaluated for wins based on their displayed icons.
The following may occur during the brief bout:
• A symbol landing on similar positions in both reels turns its mirrored images into W Wild icons. In addition, a bonus prize equivalent to 1.50x the Bet will be awarded.
• When two (2) identical Hologram Wilds land as outcomes in any reel, the Free-Spins Round sets off.
Time Warp Online Slot: Free-Spins Round
This segment awards a greater number of free-spins, albeit dependent on the type of Bonus Game selected. The choices include:
Jurassic Period Free-Spins – Award eight (8) bet-free games; the least number of spins awarded by the array of choices. Yet the Jurassic Period bonus reels may prove to be the most potent, in light of the Hunting Wild feature.
At the onset of the round, a Jurassic Wild Symbol is positioned at the center of Reel 5. After every spin, another Wild appears, this time at the center of the adjacent reel, (Reel 4, 3, and 2 in that particular order.) However, if the Wild/s already in place become part of a winning arrangement, the Hunting Wild actions end. Another Jurassic Wild in Reel 5 will once again hunt for identical symbols to complete as matched groupings.
Antique Period Free-Spins – This round awards 10 Free-Spins that spawn one (1) up to three (3) overlay Roman Temple Wilds during each turn.
Distant Future Free-Spins reward players with twelve (12) free games, played on reels in which a Spaceship Wild is glued to the center of Reel 3 throughout the round.