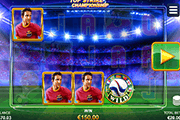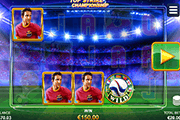 Top Strike Championship : Place Bets on Winning Teams to Win Up to 150x Total Bet
Top Strike Championship is an engaging 20-payline online slot from NextGen Gaming. Here, players rake in wins not only from winning combinations created by 3 or more alike symbols.  They can also win Extra Bonuses by placing bets on three 3 football league picks. Played via the Treble Bet Bonus Game, it is a special segment that activates only during a Free-Spins Bonus Round.
Trigger a free round by landing at least three (3) Championship Cup icons. While vying for bonus wins, anticipate the emergence of Golden Tickets. The latter sets off the Treble Bet Bonus Game, where players select potential winning teams. They will then collect extra prizes if their picks match the Game Board results, as well as advance to the Knockout Stage. Those who succeed in playing all four (4) knockout rounds, may win as much as 150 times their current Total Bet.
Symbol Paytable Values though are different when in the free games. The Top Strike Championship Logo, for one pays 2, 50, 200, or 1500 credits on a set of 2, 3, 4 or 5 that lands as Base Game payline wins. In free rounds, the Top Strike Championship Logo has higher payouts on 2, 3 or 4 matched groupings: 4, 75 or 300 respectively. A 5-symbol Top Striker Bonus Win garners less, as only 1000 credits will be awarded.


Top Strike Championship Slot: Wild Symbol
Wild Emblems appear in any reel; rendering them capable of forming winning combinations on adjacent payline positions. During base games, a convergence of 2, 3, 4 or 5 Wilds in a payline, garners a reward equal to 10, 200, 500 or 2,500 times the Line Bet.
Although the Free Round maintains the same payouts on 4 or 5-of-a-kind Wild Symbol win, it awards only 150 credits on a 3-symbol Wild match. Still, bonus round Wilds, pay a slightly higher 20 coin-credit, on a pair of Wilds occurring as payline win.
Top Strike Championship Free Games
Landing three (3) or more Championship Cup tokens as simultaneous outcomes of a paid spin, sets off the Top Strike Free Games. Qualifying players receive 10, 15 or 20 bet-free rolls on a corresponding set of 3, 4 or 5 Championship Cup images scattered across the play area.
During free bouts, anticipate the emergence of Golden Tickets in any Reel 5 position. Such an event is significant, because the special icon unlocks the Treble Bet Bonus Game.
Treble Bet Bonus Game
This feature mimics football betting; which carries on in several stages. In the first stage, players select three (3) teams which they think will qualify in the knockout phase.
The League Board Results randomly generates the set of winners. All three (3) teams selected by a player must turn out as winners. If such is the case, the game advances to the Knockout Bonus Stage. Needless to say, landing only one or two matches though will still end the bonus feature. Nonetheless, every winning pick in the Treble Bonus stage, garners a corresponding bonus reward.
Should a Top Strike Championship player makes perfect football team guesses in all 4 rounds of the Knockout Bonus Game, he or she stands to receive as much as 150x the Total Bet.
Once this free round feature concludes, the game goes back to regular free-spins play. Still, Golden Tickets may re emerge in Reel 5 during the remaining free games; giving players additional chances of reaping more bonus wins from the Treble Bet and Knockout Game Bonus features.