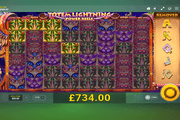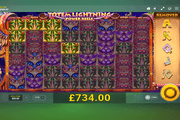 Totem Lightning Power Reels: Series of Low-Win Symbol Removal Can Lead to Big Pays!
Totem Lightning Power Reels online slot runs 48 elements on 8 rolling reels with 6 rows of images. Here, Red Tiger Gaming uses four (4) colourful Mask Totems as high paying symbols. Stacks of Mask Totems have great potential to populate the grid once all low-win symbols have been systematically eliminated.
The game's Symbol Removal feature transpires everytime a low-win element, (10, J, Q, K or A), completes a combo conforming to any of 30 pay patterns. In such instances, all tiles of the winning low-win icon, including those not forming part of the paying combination, disappears from the reels.
The event therefore will create openings for new symbols coming from above. Elements roll down and create fresh arrangements that may result to additional winnings. An outcome that has greater impact is another low-value-symbol-win, as the event will once again trigger the Symbol Removal feature. If such wins transpire in succession, only high paying Mask Totems will cascade as rolling-reel outcomes.


Of the four (4) Mask Totems, the Eagle has the highest range of payouts. On the longest payline combo composed of 3, 4, 5, 6, 7 or 8 Eagle icons, rewards in store are 60, 120, 240, 450, 900 or 3,000 win-credits, respectively.
Although this game has no Wild Symbol to offer as alternating icon, it randomly activates a Lightning Strike feature. The latter instantly removes a batch of low-win elements present in all reels. On top of the Symbol Removal action, the feature may even install a high-win icon as replacements.
Totem Lightning Power Reels Online Slot : Symbol Removal Tracker Panel
Every time a low-win element disappears after hitting a payline win,  the event lights up the Removal Tracker Panel. That way, players can monitor, which other low-value symbols will disappear in an ongoing series of wins.
Once the Tracker Panel displays a complete set of highlighted symbols, whilst chain of wins continue, only high-paying elements will occur in reels.
Totem Lightning Power Reels : Symbol Removal Feature
Symbol Removal actions initialise with any of the A, K Q, J and 10 Symbols, whichever hits a payline win.
Now in a series of win-events that carries on after all low-win icons have been eliminated from the grid, the Symbol Removal feature will still take effect. Any winning high-win icon will likewise disappear, and create spaces into which rolling symbols from above will drop. Players therefore can amass additional winnings until no more winning combos transpire as outcomes.
Totem Lightning Power Reels : Lightning Strike Feature
Players looking to trigger a round of free games may find it disappointing that this game does not offer that kind of bonus feature. Nonetheless, the Lightning Strike feature, albeit randomly triggered, may occur to force-activate a chain of win events.
On any spin, bolts of lightning may strike a set of non-winning low-win symbol; causing instant removal of such icons from the grid. The feature may strike repeatedly, resulting to more low-win symbol removal occurrences.
If a Lightning Strike hits the Removal Tracker Panel, the struck symbol disappears if it is present in the reels. Now if the feature strikes the grid and hits random low-win icons, the feature will install a higher winning symbol as replacement.