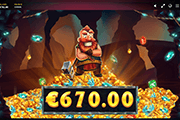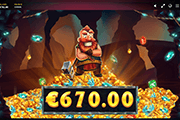 Treasure Mine Online Slot: Join Redbeard's Mining Adventure and Collect Lots of Bonus Wins!
Treasure Mine is a cartoon-based online slot, featuring a Viking fortune hunter about to cart away Treasures from a mine cave. A Dragon, fiercely guarding the mine cave adds more excitement to the reel-spinning game. Redbeard, the Treasure and the Dragon are special types of Wild Symbols that trigger different win-boosting events, when appearing as simultaneous outcomes of a spin.
Treasure Mine slot players can help Redbeard take out a cartful of gold coins and jewels by landing on three or more Mine Cart images. In a Bonus Game called Treasure Run, a cart-riding Redbeard will collect as many as he can before he reaches the Exit or a Dead End. Bonus Game players will then collect the cash value of all the riches spirited away by the Viking marauder.


Treasure Mine Online Slot: Wild Symbols
Actually, there are four (4) types of Wild Symbol appearing in this game. One is a regular Wild adorned with Gold Coin images. Its regular function is to act as alternative symbol to complete any of 40 paylines.
The Gold Coins Wild can also form its own paying combination by aligning as one-of-a-kind contents of a payline. Three, four, or five Gold Coins Wilds converging as a winning combo starting from the first reel, award 40, 100, or 320 credits times the Line Bet.
The other three Wild Symbols namely, the Redbeard Wild, the Treasure Strike Wild and the Dragon Wild can also act as substitute icons. The difference though is that when any two, or if all three of those Wild icons appear as simultaneous outcomes of a spin, a Bonus Event transpires.
Treasure Mine Online Slot: Special Wild Bonus Features
Reels returning with a Redbeard, Treasure Strike, and/or Dragon Wilds combo activate a bonus feature.
Redbeard and Treasure Strike Wilds in a single spin outcome gives Redbeard a chance to seize a mine cart filled with treasure. The Viking jumps on the cart and pounces on the riches to bring on a random but significant bonus reward.
Redbeard and Dragon Wilds is an encounter scene in which the Viking tries to escape the wrath of the fire-breathing Dragon. As Redbeard jumps from one reel position to another, he leaves behind a trail of multiple Wild Symbols that greatly improve the outcome of the related spin.
Treasure Strike and Dragon Wilds is a bonus event in which the Dragon multiplies the value of the bonus reward by breathing fire on the Treasure image.
Redbeard, Treasure Strike and Dragon Wilds appearing altogether via a single spin will likewise bring on all bonus features.
Redbeard pounces on the Treasure until it reaches a random amount, while the Dragon breathes fire on both Redbeard and the Treasure. The cash value therefore multiplies while Redbeard leaves a trail of multiple Wilds while escaping.
Treasure Mine players should brace themselves for the Big Win coming their way. A 3-Wild combo will bring both the multiplied Treasure Bonus plus the winnings gained from the Wild-enhanced spin outcome.
Treasure Mine Online Slot: Bonus Game
Three (3) Mine Cart Bonus icons in Reels 1, 3, and 5 activate the Treasure Run Bonus Game.
The Viking Raider apparently succeeded in spiriting away the mine cart filled with treasure. While making a run for it onboard the mine cart, Redbeard gets to collect more gold coins and gemstones along the mine rails. This means the more items collected during the run, the greater the bonus rewards in store for a Treasure Mine player.
However, at some point, Redbeard reaches a junction and players have to choose one of three railway directions. Making the right choice will allow Redbeard to collect the maximum bonus rewards, while a wrong choice may lead to a broken rail that will cut short the Bonus Game.