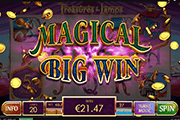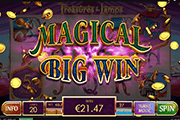 Treasures of the Lamp : 3 Female Genies Bring on Reel Enhancements in Base and Bonus Games
Treasures of the Lamp online slot by Playtech, brings to life three (3) female Genies who can make wishes for fortunes come true. Configured with 20 paylines, alike symbols may land aligned in any, and form winning combinations. Take notice of the Magic Lamp positioned at the top of the grid, as it may call upon one of 3 Genies to boost chances of striking multiple payline wins. Genies Ruby, Audrey and Gloria possess powers that can enhance a spin outcome with different Wild features.
When playing in a free round, the magical Wild powers of the three Genies will have greater impact. Mainly because Treasures of the Lamp also awards a random Multiplier that applies on all-wins struck during free bouts. Actually, players can experience other Genie powers in another bonus feature called the Stargazer Bonus. A summoned Genie awards not Wilds, but Stars that increase Bonus Wins.


Ruby, Audrey and Gloria are reel elements in their own right; therefore capable of creating winning combinations. Genie Ruby (Red Motif) has the highest Paytable Values of 50, 150 or 1000; correspondingly awarded on 3, 4 or 5 of her icons aligning as winning combo.
Though when it comes to high value pays, the Lamp Wild Symbol brings the greatest returns. When 3, 4 or 5 Lamp Wilds align as payline combos, the longest of a winning Wild arrangement commands a value equal to 50x, 500x or 5000x the Line Bet.
Treasures of the Lamp Online Slot: Random Magic Lamp Features
Once in every while, one of three (3) Genies appear to apply any of the following special Wild Features:
Ruby (Red Motif) is still the most powerful, as she locks in place all Wild Symbols currently in view, and then Respins the modified spin outcome.
Audrey (Yellow Motif) adds up to five (5) additional Wild icons in random grid positions.
Gloria (Blue Motif) is amazing with her Spreading Wilds, as they tend to cover adjacent reel positions.
Treasure of the Lamp Online Slot: Bonus Symbols
Three kinds of Bonus Symbols roll out as potential outcomes of a specific reel: They include
Numeric Symbols anywhere between 10 and 30, and any may emerge in Reel 1.Each numeral represents the number of spins, or picks a player receives to play one of 2 Bonus Games.
Bonus Win Multipliers ranging from x1 to x5 appear in Reel 3. If a Bonus Game activates at the same time, the Multiplier Value in view will apply to all wins garnered from the played bonus game.
Bonus Game Feature may be a Free-Spins Round, or the Stargazer Bonus icon in Reel 5. Any that lands simultaneously with a Numeric Symbol in Reel 1, and a Bonus-Win Multiplier in Reel 3, completes the trigger-combo that unlocks the indicated Bonus Game.
Treasure of the Lamp Free-Spins Round
A round of free games rolls out in numbers that follow the numeric symbol displayed by Reel 1. All winnings earned from each bonus spin, will increase via the Multiplier held by Reel 3.
The great news is that during bonus bouts, the Magic Lamp will still summon a Genie on any random spin.
Treasures of the Lamp Stargazer Bonus Game
This is a Pick Bonus Game that sets off if Reel 5 concurrently displays the Stargazer Bonus icon with the Numeric Symbol and the Bonus-Win Multiplier.
The Number displayed by Reel 1 determines the number of Picks to play, while the Bonus-Win Multiplier will increase the value of the Cash Rewards revealed.
Using the number of Picks triggered, participating Treasures of the Lamp players choose Stars that reveal Cash Bonuses. Yet any of the Stars selected may also reveal a Genie who will award a special Stargazer Prize.
Genie Ruby awards a Cash Prize plus additional Star Picks
Genie Audrey grants seven (7) surefire Star Cash Rewards.
Genie Gloria increases the values of the winnable Star Cash Prizes